The Jonas Brothers are Back with the New Release 'Sucker'
Published Fri Mar 01 2019 By Jessica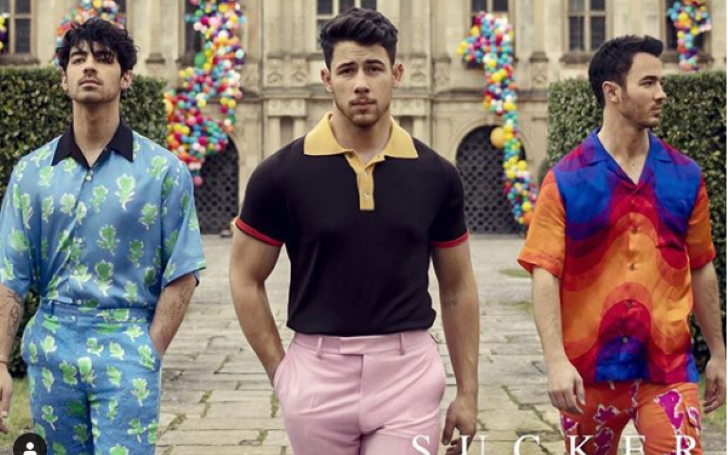 With the new release 'Sucker' the Jonas Brothers are back and better than ever.
Forget One Direction because we are 'Sucker' for the Jonas Brothers reunion.
What a pleasure it has been for the 2019 music industry and it's only March.
Only on Thursday, the Disney alum, the 90's fangirls favorite, the true boyband; Jonas Brothers announced they were coming back to save the music industry.
And only in a blink of an eye after the JoBros made that glorious announcement, their new music video, 'Sucker' is already out too. And as expected everyone's already jamming out to their new bop.
Clad in Prabal Gurung attires, the JoBros shared their first reunion picture on the official Jonas brothers Instagram.
Jonas Brothers on the set of 'Sucker'
SOURCE: Jonas Brother's Youtube
The band who previously took a hiatus of six years will be also making their appearance on 'The Late Late Show with James Corden' to promote their new music. The host and the three brothers took to their social media to share a video where they participate in Carpool Karaoke, a segment of the show. The episode named as #LateLateJonas will air on Monday as it will conclude on Friday.
You may also like: Bruno Mars Hilariously Blames Ed Sheeran For The New Ban on His Song 'Versace on the Floor' in Indonesia
Whilst we ignore our teenage years' selves, what makes their new music video even more interesting is that their real-life partner aka Nick Jonas's wife Priyanka Chopra, Joe Jonas's fiancee Sophie Turner and Kevin Jonas's wife Danielle Jonas also features in the dramatic video.
Following the reunion news and their newly released music, fans on social media expressed their happiness and in fact celebrated the announcement. You can check out their reactions below.
Jonas Brother released their last and fifth album named 'V' back in 2013. Last year too, rumors surfaced that the band was making a comeback when they reactivated their Instagram account, but the stars somehow denied the gossips.
Don't miss: Sarah Michelle Gellar Writes the Sweetest Note to Selma Blair
Fortunately, for the fans, the bros later acknowledged that their reunion was much needed. And here they are with the tune of the year.
-->