Khloe Kardashian Might Be Single But She Is Open To Marriage Again
Published Mon May 20 2019 By Jessica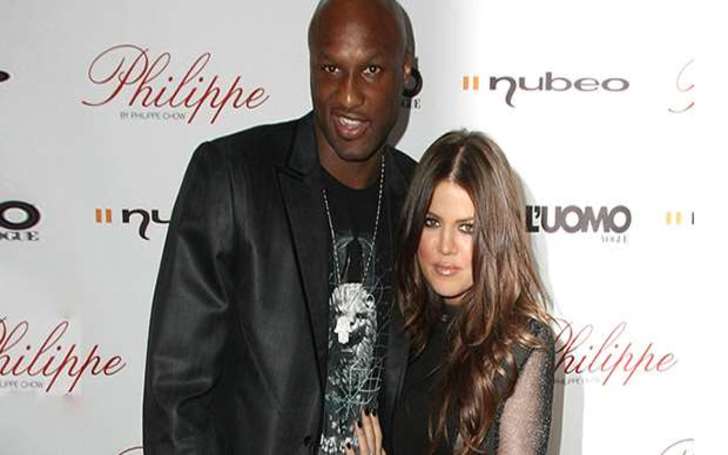 Single Khloe Kardashian insists she is open to marriage but not to dating.
Only the Lord knows what Khloe Kardashian went through after her ex-boyfriend Tristan Thompson tried to hook up with his own baby mama' sister's best friend.
Although it might feel like yesterday the whole Thompson and Jordyn Woods scandal moved the internet, but what's damaged is damaged for forever.
Poor Kardashian, it appears that the reality star just doesn't have the luck to find real love yet. In case anyone forgot, the 'Keeping up with the Kardashians' star was married to former husband Lamar Odom only for it to end up in divorce since their relationship turned sour.
Kardashian even once had a fling with rapper French Montana, but it was not meant to be either. Despite all the heartbreaks, the reality star, however, still has not given up her hope from finding real love.
Khloe Kardashian pictured with former husband Lamar Odom.
SOURCE: Kiss 100
As a matter of fact, Khloe recently revealed in an interview with Laura Wasser for her podcast 'Divorce Sucks!' that she still finds herself available to walk down the aisle again.
Yup, the 34 years old star wants to find love again although she clear;y mentioned that focusing on her mind, body, and soul is her main priority in the meantime.
Speaking of her harsh divorce with Lamar, The 'GOOD AMERICAN' founder positively told Wasser: "What I've learned from my first ex-husband is that you'll be OK. I really think you should go through your feelings. [The divorce from] Lamar was so hard for me, it was the first time I had my heart broken and I put my all into my marriage."
Adding: "Me knowing I could survive that, I would rather experience those moments of greatness than never experience it. Life is about love, you'll find someone again once you heal."
Khloe and Lamar split after more than seven years of togetherness with their relationship involving constant cheating and drug usage from the NBA star's side.
Luckily for Khloe who was last seen at the baby shower party of her new niece, Psalm West insists she found her true love in her daughter, True Thompson. Revealing that she does not use dating application like Tinder anymore, the tv personality said that she is just 'so in love with True.'
"It sounds like the typical answer, but I'm working on myself - mind, body and soul. I don't feel a sense of urgency to find someone or even go on a date," continued Khloe.
Interestingly, like the rest of the fans of Grammy-winning artist Adele who recently divorced her husband Simon Konecki, Khloe then joked somewhere in the interview that she is waiting on that 'good break up album' from the musician.
Well, whoever ends up dating Khloe again, we hope it will be a worthy one that will consequent to a successful marriage.
-->