Meghan Markle Is Getting Accused Of 'Copying' Kylie Jenner's Hollywood-Style Mother's Day Post
Published Mon May 13 2019 By Jessica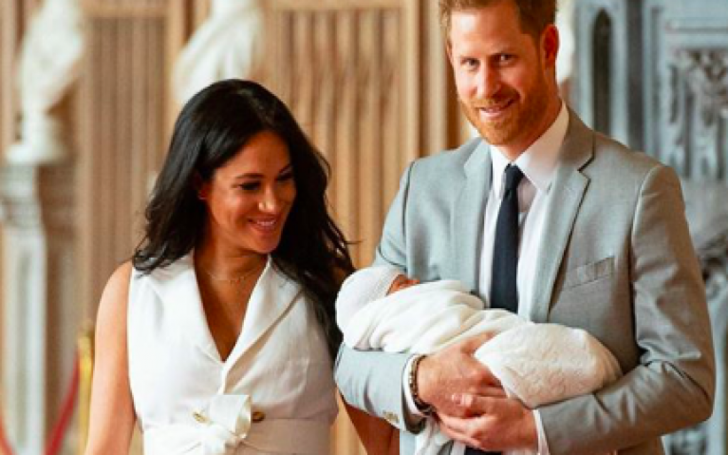 Meghan Markle faces accusations of copying Kylie Jenner's Mother's Day post on Instagram.
Happy Mother's Day to the Duchess of Sussex, Meghan Markle on celebrating her first ever Mother's Day.
In honor of the special day, the new mom delighted her followers on Instagram by sharing a sweet picture of her son, Archie Harrison Mountbatten-Windsor's feet taken in the beautiful garden of Frogmore Cottage.
Recommended: Did Meghan Markle Choose An "Unusual" American Name for Baby Boy?
The caption of the post inserted a beautiful poem. In full, the photo caption read:
"Paying tribute to all mothers today - past, present, mothers-to-be, and those lost but forever remembered. We honor and celebrate each and every one of you. Today is Mother's Day in the United States, Canada, Australia, New Zealand, South Africa, Kenya, Japan, and several countries across Europe. This is the first Mother's Day for The Duchess of Sussex.

Quote from "lands" by @nayyirah.waheed:
my
mother
was
my first country;
the first place I ever lived."
The adorable picture earned tons of positive comments and appreciations from the Royal and the former Hollywood actress' fans.
The Queen visits Meghan and Prince Harry to see Archie Harrison Mountbatten-Windsor.
SOURCE: Sussex Royal
Although the beautiful picture received abundance love, it didn't take long for people to throw some negative comments at the post. But, is that even surprising at this point?
This time, people took a deep notice and found some similarity of the photo to the ones reality star Kylie Jenner posted on her Instagram after welcoming her daughter, Stormi Webster.
Following the birth of Stormi in February last year, Jenner shared the first image of her daughter where she can be seen holding her baby girl' little fingers.
Meanwhile, people think Markle imitated the same concept without giving it a second thought that it could all be nothing but a coincidence.
Among those, one included Gary Janetti, a writer from the US who shared both pictures side by side on his parody Instagram account where he has more than seven hundred thousands followers.
Emphasizing that there existed similarities in the two pictures, moreover like Markle was inspired by Jenner's photo, Janetti also used a picture of Prince George as a meme, with writing 'Meghan' in the caption.
The post then immediately followed hundred of people jumping towards the comment section to accuse Meghan of copying Kylie's Hollywood style social media.
One of the followers said: "She wants to be a celebrity, not a royal - so are we really shocked?"
As another wrote: "Meghan Kardashian" which was followed by tons of laughing with tears emojis.
A third one harshly added: "She is such a basic b*tch! Not an original bone in her body."
Likewise, another person commented: "Exactly. Too Hollywood"
This one person even pointed out how the nail colors of Meghan matched to Kylie's.
The rest of the comments were too hard, we would just like to stop here.
Don't miss: Why Does Meghan Markle Receive Different Media Treatment Than Kate Middleton?
What do you guys think, was Meghan really trying to copy Kylie? Or maybe people should just mind their own business and learn to be easy and respectful towards the Duchess?
-->