Nick Jonas Heads Back to the U.S. After Marrying Priyanka Chopra in India
Published Sun Dec 16 2018 By Jessica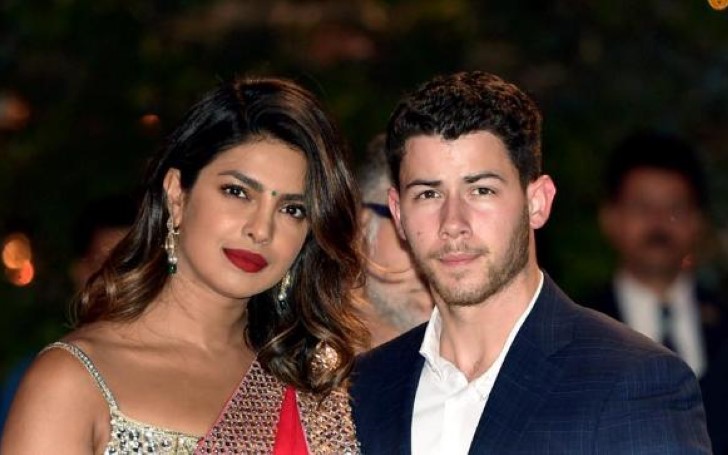 Nick Jonas heads back to the US after his wedding and marriage celebration with Priyanka Chopra in India.
The handsome musician Nick Jonas has flown back to the US after celebrating his wedding ceremony and marrying Priyanka Chopra in India. However, due to workloads, wife Priyanka is still staying in India.
The couple had earlier displayed stunning wedding dresses. Meanwhile, the 26 years old singer, Nick was reportedly seen at an airport in India leaving for the US. The news was later confirmed when Nick posted a picture of him with along his two nieces.
In the picture, Nick is seen playing the piano with them. Nick seems happy to be reunited with his family although a glimpse of him missing his wife is visible on his face too.
You May Also like: Kendall Jenner Goes Braless and Flashes Her Nipple On The Red Carpet At British Fashion Awards
He captioned the picture with:
"My beautiful nieces teaching me everything I know on the keys. 🎄😍"
The two adorable nieces in the picture are the daughter of his eldest brother, Kevin Jonas. Unquestionably, through our judgment, Nick is an amazing uncle.
Also Read: Tim Robards and Anna Heinrich Share Their Top Fitness Tips, Anna Heinrich's Mind Blowing Bikini
Nick and Priyanka officially tied their knot in India in two different rituals, both Hindu and Christian ceremony at the Umaid Bhawan in Jodhpur. The wedding was so lavish it earned both national and international attention.
Their wedding reception was also attended by the Prime Minister of India, Narendra Modi.
The mashed up wedding was appreciated by Nick that he shared a post regarding it saying:
"One of the most special things that our relationship has given us is a merging of families who love and respect each other's faiths and cultures."
He further added:
"And so planning our wedding with an amalgamation of both was so so amazing."
Likewise, the newly wife Priyanka also commented on their lavish mashup wedding. She stated in an interview with People:
"I love that our wedding was a religious mash-up. We took beautiful traditions that we both grew up with and personalized them in a way that made sense for us."
See also: Arrow Actress Katie Cassidy Married to Matthew Rodgers in Florida
Nick flew back to the US after attending the wedding of heiress Isha Ambani, the daughter of Mukesh Ambani, India (Asia)'s richest man's daughter with Priyanka.
Before Nick met the love of his life aka PC, he was previously in a relationship with singer Miley Cyrus in 2006, who she calls his first crush.
He later dated another fellow Disney ex-act singer Selena Gomez, but their fling didn't last either. Similarly, Nick also dated another older woman with an age gap of 8 years, Delta Goodrem.
He also dated a former Miss Universe, Olivia Culpo for two years and later broke up in 2015. Then, Nick began dating British actress Lily Collin in 2016.
Nick also dated an older woman again, actress Kate Hudson.
Before finally meeting Miss Chopra, he dated Super Model Georgia Fowler in late 2017.
The couple is set to be on their Honeymoon soon after hosting a grand reception again, but that has not been confirmed yet.
Congratulation Nick and Priyanka!
-->