It's Official! Florence Pugh Will Play the Next 'Black Widow' Figure After All!
Published Mon Jul 06 2020 By Sea
Already pegged to be the next 'Black Widow', Florence Pugh is confirmed to be taking the baton from Scarlett Johansson for the titular role.
'Little Women' star Florence Pugh was introduced as 'Yelena Belova', a sister-figure to Scarlett Johansson's 'Black Widow', in the new Marvel franchise movie of the same name. And ever since then, there was this hint to the fact that she would be taking over from Johansson completely the next time 'Black Widow' is presented.
Now, director Cate Shortland has confirmed the 'Black Widow' movie is supposed to be something of a baton transfer between the two, just like we saw Anthony Mackie's 'Sam Wilson' taking over the 'Captain America' mantle in 'Avengers: Endgame'. The movie will also give a proper send-off to Johansson's character, seeing that she's been killed off in 'Endgame'.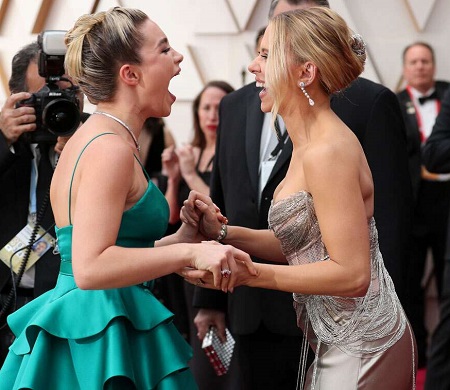 Happy Baton-Passing.
Photo Source: John Salangsang, BEI/Shutterstock
The movie slated for the first release among those in the MCU will also fill the gaps of what happened to 'Natasha Romanoff' between 'Captain America: Civil War' and 'Avengers: Infinity War', considering we know where Mark Ruffalo's 'The Hulk' wanders around in 'Thor: Ragnarok', at the same time.
Related: Florence Pugh Apologizes for Her Past 'Cultural Appropriation' Comments
It will see 'Romanoff' move back to Russia to her "found family" and provide an origin story for the character that everyone's wanted for a long time now. The so-called "found family" also includes David Harbour's 'Red Guardian', Russia's 'Captain America' counterpart, Rachel Weiss' 'Melina Vostokoff', a spy trained in the Red Room before Romanoff, and of course, Pugh's 'Yelena Belova'.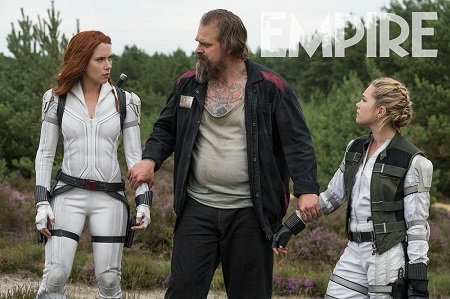 They're back in Russia!
Photo Source: Marvel via Empire
"[Kevin Feige] realized that the audience would expect an origin story so, of course, we went in the opposite direction," Shortland said in an interview with 'Empire'. "And we didn't know how great Florence Pugh would be. We knew she would be great, but we didn't know how great. Scarlett is so gracious, like, 'Oh, I'm handing her the baton.' So it's going to propel another female storyline."
Recommended: Karen Gillan Says She Wants to See 'Nebula' Build Her Life After 'Thanos's Death on 'GotG3'
So yeah, Johansson is glad she's leaving everything to Pugh now. But she's not the only one leaving the MCU. Of course, Rober Downey Jr.'s 'Iron Man', Paul Bettany's 'Vision' and Chris Evans' 'Captain America' are also not returning as superheroes in the franchise, almost all of them having leader's roles. This leaves a lot of those freshly introduced superheroes will have to lead the newly reformed pack.
And don't worry, the 'Black Widow' character is in good hands as Pugh's portfolio is enough to convince anyone. If not, take Johansson's own words for it. Her roles in 'Midsommar' and 'Little Women' are worth noticing.
Stay tuned and connected to GlamourFame for more celebrity & movie news and updates.
-->