Pete Davidson Reportedly Had a Heckler Thrown Out of his New Jersey Comedy Show For Joking about Mac Miller's Death
Published Thu Feb 28 2019 By Jessica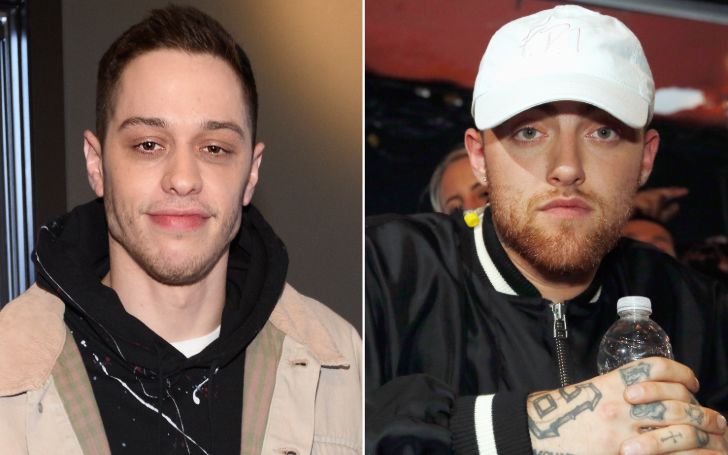 Comedian Pete Davidson kicked out a heckler from his show for joking about late Mac Miller's death.
Saturday Night Live star Pete Davidson couldn't tolerate when one of the audiences disrespectfully shouted a joke about the late rapper, Mac Miller at his recent comedy show in New Jersey.
The 25 years old star was reportedly performing at the South Orange Performing Arts Center, where he started up the show by making a joke:
"So a funny thing happened to me recently in my apartment … my friend died of a heart attack."
Before Pete could finish off his jokes, that's when one of the insensitive audiences shouted 'Mac Miller?' The audience voice can be heard in audio footage obtained by Hollywood news site TMZ.
SNL's star Pete Davidson at an event
SOURCE: IOL
Pete hugely irked by hearing the remark made about his ex-fiancee Ariana Grande's ex-boyfriend, he stepped forward and insisted he wouldn't continue the show until that person was kicked out.
You may also like: Tyga Getting Sued For $128 k Of Broken Leases on Ferrari and Rolls Royce.
He groaned:
"Oh, Jesus Christ. Who's that? We're getting him out."
Calling out the heckler a 'fuckface', he continued:
"Point out the guy who's a f***face, Go get him. I'll wait. I will not continue until that kid's gone."
Pete continued his rant expressing more annoyance on the comment.
In fact, he even threatened the venue to discontinue his performance if they don't get the heckler removed.
"I'll leave, so if you want the show to continue, call out the person who did it. We've got to get him the fuck out. Give him his money back, and get him the fuck out; I don't deal with that shit at my shows. Find him."

"Seriously, if you're sitting next to the person who did that, call it out, because I'll just leave right now, I don't give a shit. I'm not making that much money from this show."
The show then urged the audience to point out the heckler. To which the audience respectfully obeyed.
Don't miss: Versace and Dolce & Gabbana AW19 Show Report: Grunge Influences, Anger and Bovver Boots were Major themes in Milan
The audience also then began applauding after the heckler got kicked out.
Davidson is then heard saying:
"Don't applaud that a--hole. Nah, go ahead, applaud — applaud security for getting him out. They do a great job."
After removing the person, the comedian seems to be calmed down and resumed to the show.
"OK, I'll gradually try to get us back up to the fucking fun level we were at five minutes ago. "I wish I was Dane Cook; he would know how to get out of this."
Miller, whose real name is Malcolm James McCormick died last year on 7th September from a drugs overdose, a deadly mixture of alcohol, cocaine, and fentanyl. The rapper was found dead in his San Fernando Valley home.
Miller previously dated Grande from 2016 till the beginning of 2018, before the female singer met and fell in love, and eventually got engaged with Davidson.
See more: Bella Thorne Splits from YouTuber Tana Mongeau but is Still with Boyfriend Mod Sun after Dating Both Simultaneously
Grande's break up with both Miller and Davidson inspired her to hit single 'thank u next'.
-->