R. Kelly Denies Sexual Abuse Allegations in Explosive Interview with "CBS This Morning" co-host Gayle King
Published Sun Mar 10 2019 By Tess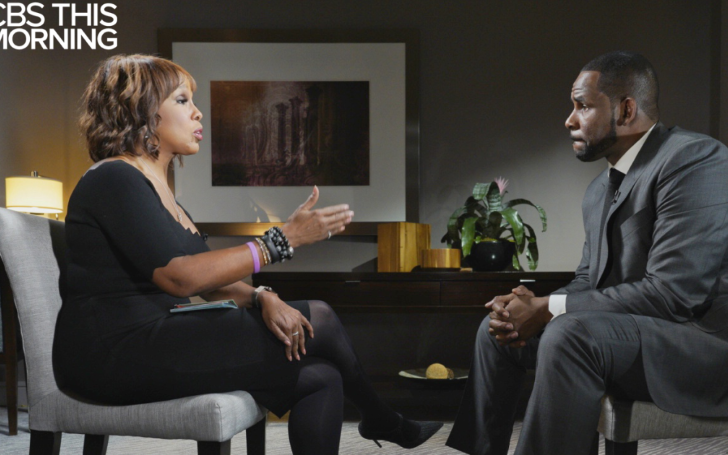 R. Kelly finally broke his silence regarding the sexual abuse accusations while appearing in an interview with Gayle King.
On Tuesday, the famous R & B singer Robert Kelly widely known as R. Kelly appeared in CBS This Morning with co-host Gayle King in an attempt to clear his name of the several sexual allegations.
The singer sat down with King for an interview for the first time since his arrest after four women accused him of sexual assault, three of whom were underage at the time of the alleged events.
In the exclusive interview which aired on Wednesday, R&B singer R. Kelly denied the 10 criminal sexual abuse charges brought against him in Illinois and addressed allegations made by numerous women in the recent Lifetime series "Surviving R. Kelly."
The explosive interview almost saw a breakdown of the awardwinning singer infront of viewers.
In the first segment, the singer went through a sudden outburst being increasingly agitated as he began to scream, "I have been assassinated, buried alive! But I'm alive" at one of the cameras in his Chicago apartment where the interview took place.
He continued:
"How stupid would I be to do that… is this camera on me? That's stupid! Use your common sense!"

"I didn't do this stuff. This is not me! I'm fighting for my f*cking life! You're all trying to kill me!"
When King asked him not to rant infront of the camera, the singer vehemently pleaded "I need help."
"I need somebody to help me not have a big heart. Because my heart is so big, people betray me and I keep forgiving them."
In addition, the singer also spoke out about the accusation of holding two young women in his house against their will by the families of two young women he is currently living with.
Meanwhile, Kelly's two live-in girlfriends, Joycelyn Savage, and Azriel Clary, publicly defended the singer, making it clear they are not being held against their will in Kelly's Chicago home, as their parents suggested.
Read more: Lisa Vanderpump Sheds Some Light on The Real Housewives of Beverly Hills Dog Drama
Further, the women said they love Kelly though their families claim he has brainwashed them as they don't find anything inappropriate about their relationship with the 52-year-old singer.
Moreover, the women additionally revealed their parents encouraged their relationship with R. Kelly in the first place and even persuaded them to take sexual videos with the singer.
"OK, so when I first met Robert, my parents told me to lie about my age. So when I met him, he thought that I was 18. On top of that, when I was 17, my parents were actually making me, trying to get me to take photos with him, take sexual videos with him, all kinds of stuff."
King further questioned: "Wait, wait, wait. Your parents encouraged you to do sexual videos with R. Kelly?"
To which Clary responded:
"Yes, and they said, because if they ever have to blackmail him, what they're trying to do now, they can use it against him, which is exactly what they're doing."
Savage agreed and added, "everything that she's saying is true."
"Both our parents are basically out here trying to get money and scam, because they didn't agree on what happened, you know, with music or whatever it could be. And they're just very upset."
Similarly, R. Kelly also denied all the accusations against him through the interview repeteadly calling the current scenario a scam as a result of his fame and success.
Don't miss: Leonardo DiCaprio Tries To Maintain A Low Profile As He Makes Rare Public Outing With Girlfriend Camila Morrone
However, the women's families denied the allegation with both describing R. Kelly as a liar and insisting they'd never asked for or got payments from him.
Shortly, after the interview aired, a judge in Chicago ordered Kelly taken back into custody over unpaid child support.
Over the years, Kelly was charged with several sexual misconduct charges including 21 counts on child pornography 7 of which was later dismissed after the singer denied of being the person in the tape. The singer eventually walked out a free man after facing trials for six years and five weeks in court.
His recent charges of aggravated criminal sexual abuse involve four girls, all of whom were underage at the time of the alleged incidents.
Also see: Taylor Swift Stalker Arrested Breaking Into Her Apartment For The Second Year In A Year
Four counts involving Victim 1, ranging from May 1998 to May 1999; two counts involving Victim 2 between September 1998 and September 2001; one count involving Victim 3 in February 2003; and three counts involving Victim 4 from May 2009 to January 2010.
-->