The Real Reason Pete Davidson Quit Instagram After Splitting Up With Ariana Grande
Published Fri Feb 08 2019 By David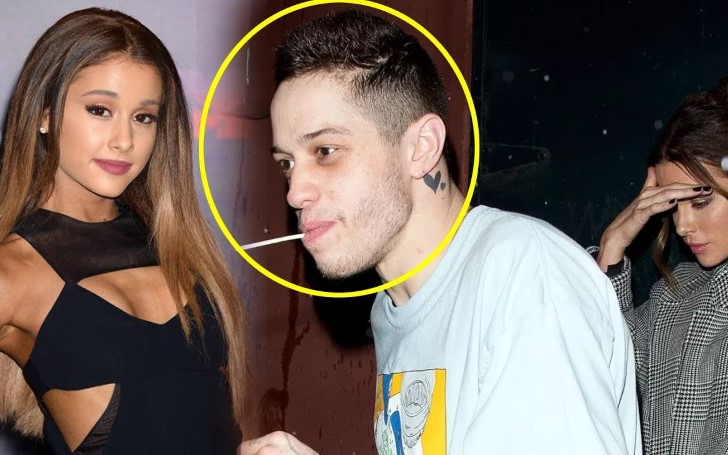 Pete Davidson opens up about the real fuss behind his Instagram quitting!!
Earlier in the month of July 2018, Pete Davidson threw off all the photos from his Instagram, prompting panic from Grandson rooters everywhere. Deleting one's social-media history is often the first sign of a celebrity breakup, which is always a concern when your relationship is only a month long and was founded over tattoos and mutual Harry Potter fandom.
But the mutual fans of Davidson and Ariana Grande can rest easy. It turns out the beau did not delete his online presence because his real life is muddling away; he deleted it because similar to the case of New York Times writer Maggie Haberman, he is tired of social-media negativity. (Recently the SNL star has been in some online conflicts with haters, including the Ariana Grande fans who disapprove of their relationship.)
Pete Davidson talks about his reason behind deleting all his Instagram posts

SOURCE: Bustle
While some fans are still betting on the couple eventually making it all the way to the altar, their apparent break-up certainly raised eyebrows. After all, they went from dating to engaged to going their separate ways within a chunk of time.
After the breakup, Davidson even made his fair share of gags on Saturday Night Live to cope. Grande, on the other hand, decided to write a song, thank u, next, to help her get her feelings out. She even dropped the name Pete to let him and her fans know she's actually dedicating the song to him. While both are doing what they can, it's clear that NBC's superstar is taking the split to heart.
So what has this to do with Davidson quitting Instagram??
The internet is known to hit the blues on many people's moods. Every day there is an endless content being thrown at viewers, and at least half of that content is triggering for various reasons. Even studies show that social media use can actually cause depression. With all that being said, it's no surprise that Davidson decided to take a break especially after all that halt in his relationship with the singer.
"I don't think online is good. It doesn't make me very happy", Pete Davidson opens up about quitting Instagram.
Don't Miss: Hailey and Justin Bieber Reveal They Were CELIBATE Until They Tied The Knot and Admit Marriage is 'Always Going To Be Hard' in Intimate Vogue Spread
Back in November 2018, the 25-year-old star was also speaking up about his time at a treatment center in Park City (following his substance abuse and mental health problem in sometime between 2014 and 2015). And in typical fashion, he also somewhat poked about his backing off from the social media.
When asked if he's really done with his Instagram handle for eternity, Davidson simply replied, "Yeah, I can't go on that for obvious reasons."
"Just don't go online," he suggested. "I don't think online is good. It doesn't make me very happy...Even if it's not about me. It's just like random shit like, 'Trump farts'. You just see shit all day, but yeah I'm not a fan of it."
The comedian also spoke about filming "Big Time Adolescence" in Syracuse, New York. While the actor admitted, he enjoyed bleaching his hair for the role, Davidson said he wasn't a fan of where the movie was shot.
Recommended: Nicki Minaj Shows Some Love to Ariana Grande in Her New Song "Bust Down Barbiana"
"It sucked," Davidson said. "The whole town of Syracuse blows. Let's be honest, they just found out I was there and tried to arrest me the whole time."
"The cops, because there's nothing going on there, they were hunting me down the whole time," Davidson said. "They tried to arrest me for bringing business to your town. Never again, Syracuse."
The actor recalled being pulled over by police and charged with possessing marijuana while driving home one weekend.
Also Read: Hailey Baldwin Reveals About Her New Married Life With Justin Bieber
Meanwhile, Davidson is currently working in an untitled semi-autobiographical comedy from director Judd Apatow.
The Universal Pictures film is jointly written by Apatow, Davidson, and Dave Sirus.
-->