The Reason Thomas Markle Hasn't Given Up Hope for a Reconciliation With Meghan Markle
Published Thu May 16 2019 By Jessica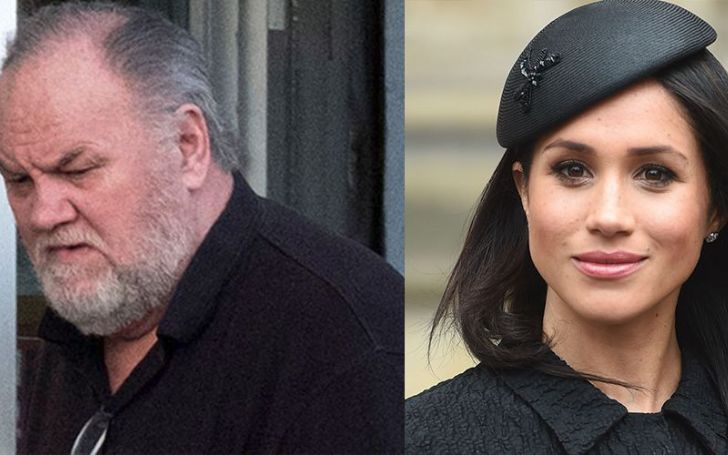 Meghan Markle father's Thomas Markle still hopes for a reconciliation with her estranged daughter.
Thomas Markle didn't show up at the wedding of her daughter, Meghan Markle, the Duchess with Prince Harry, the Duke of Sussex last year. Thomas was not even seen at the arrival of her sixth grandchild, Archie Harrison Mountbatten-Windsor, over a week.
Although the father-daughter duo had a rocky relationship in recent years, it appears that the retired film director still wants to reconcile things between him and his daughter.
Despite all the bad things he previously said and the lies he came up with, the 74 years old father of Meghan recently sent a congratulation message to her daughter and son in law on their journey of becoming parents.
Meghan Markle pictured with father Thomas Markle in the mid-90s.
SOURCE: Daily Mail
Surprisingly, his message is full of kind and wishful words rather than shades and harsh remarks he has frequently made regarding the in-laws family of Markle in the past.
In his words, the full statement released by the Sun read: "I'm delighted to hear that mother and child are doing well. I am proud that my new grandson is born into the British royal family and I am sure that he will grow up to serve the crown and the people of Britain with grace, dignity, and honor. God bless the child, and I wish him health and happiness, and my congratulations to my lovely daughter Duchess Meghan and Prince Harry, and God save the Queen."
Meghan's half brother, Thomas Markle, Jr. seems to be on his father's side as well. Apparently, the father-son duo even communicated over the matter and said that Archie is a very scary subject for him.
As a matter of fact, according to Thomas Jr., his greatest fears; the thought of never being able to see his royal grandson has really bothered him and should he never get to see Master Archie, it will really hurt his feelings.
The 53 years old uncle of Archie also reveals that Thomas is willing to do anything for Meghan to forget everything and accept him so that he will get to be a part of his new grandson.
Don't miss: Why Does Meghan Markle Receive Different Media Treatment Than Kate Middleton?
Thomas further told the news outlet: "I'm hoping that becoming a mother will open up her eyes and shed light on what family means. Maybe she will see the importance of family now—and open up to my dad and let him be part of the baby's life. She should let the family come over and meet the new baby. Usually, that's what happens—everybody crowds into the hospital room to see the new addition to the family—we'd love that. I think everybody should be invited over to see the new baby. Hopefully, she won't be unfair and withhold him from everybody."
Meghan, who was previously accused of recently imitating Kylie Jenner's baby picture, is the youngest daughter of Thomas Markle and his second wife, Doria Ragland. Thomas and Doria divorced in 1987 after nearly nine years of their marriage.
-->