Taylor Swift's "Me!" Music Video Includes Several References To Iconic Movies
Published Mon Apr 29 2019 By Chester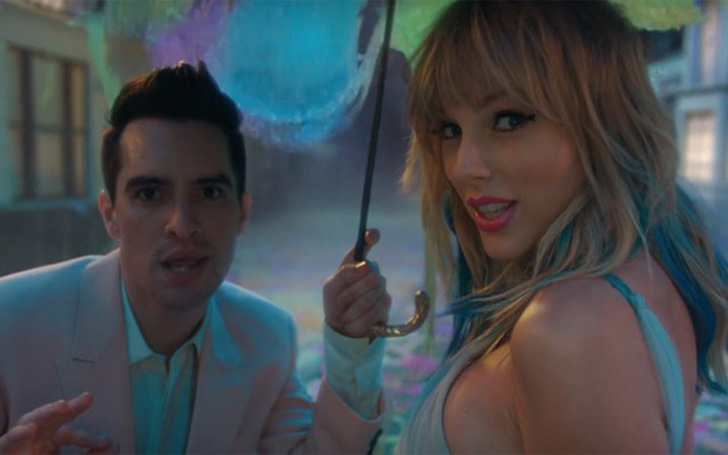 Taylor Swift recently dropped her new bubbly and colorful song with a fantasy called "Me".
It's been quite a while since the 'Love Story' hitmaker dropped her last album Reputation.
Well, Taylor Swift is back! with 'new music' with a lit music video filled with fantasies and fairy tale world. The video features a unique and colorful resemblance where Taylor Swift and his opposite partner Brendon Urie of Panic at the disco gets lost in their own fantasy world.
Check out the new Me! video directed by Dave Meyers and pop queen 'Taylor Swift' featuring Brendon Urie from Panic at the Disco! , in the world of different possibilities.
Several References To Iconic Movies and Artists special moments
A snake transforming into butterflies
Source: Youtube
The video starts with a pink venom crawling and later heads towards the camera and turns into butterflies which represents Swift's 6th studio album which resembled full of snake iconography and a transformation to this next colorful bright phase. It kind of resembles those Anaconda movie vibes as the snakes' crawl and swallowing attacking brings horrific experience.
Check out: The Trailer For Once Upon A Time In Hollywood Looks Amazing
Throwbacks
Youtube
The video narrates a scene where Swift and Urie are quarreling in the apartment but as we go in the depths there are two important throwbacks, firstly it represents a scene from Urie's music video from the song "It's Better If You Do" and the background Christmas tree which reminisces Taylor's early life as she grew up on a Christmas tree farm in Pennsylvania.
Dixie Chicks
Youtube
Remember when Taylor, 29, delivers a line citing "cool chicks" and the camera points to the wall decorated with portraits of young chickens and American 80'w lady band Dixie Chicks.
You may like: Zac Efron Teased A Sequel To Greatest Showman
The post was even tweeted by Dixie Chicks official twitter account,
Chicks stans never unstan.

— Taylor Swift (@taylorswift13) April 26, 2019
Cats as children
It's no surprise that Taylor loves her daughter together and she has shown that love in the music video by calling them as 'her daughter.'
Moulin Rouge
The movie is referenced as musical video from Baz Luhrmann's musical Moulin Rouge portraying original actress Nicole Kidman. In the video Swift shows up in a waterfall wearing a baby pink color gown where fountains are flowing. Swift is sitting on a Unicorn statue where rainbows are on the background.
Also find: Taylor Swift Accuses Kim Kardashian of Launching an 'Online Hate Campaign' Branding Kim and Husband Kanye West 'Bullies'
Mary Poppins and more
Brendon Urie glimpses us with the moments from Marry Poppins as he comes flying carrying an Umbrella from the window. Additionally there were also glimpses of Emma Stone's La La Land and Jacques Demy's classic French movie Umbrella of Cherbourg.
Singin' in the Rain
This part definately delivers us the vibes from the iconic movie Singin' in the Rain as Urie as a Rainbow world full of colorful rainbow colored water falling from the sky definately is mesmerizing and eye captivating as if in a Disney's Land.
Recommended: Avengers: Endgame: Why Is Robert Downey Jr. The Most Perfect Iron Man Who Was Born To Play The Role?
Taylor has definately come back with an interesting hooky song and creative concept references by portraying different stories together in a Bubble Universe and his prince charming Urie.
-->