Who is Chris Evans Dating? Know About His Girlfriend and Relationship History
Chris Evans, born on June 13, 1981, in Boston, Massachusetts, is an acclaimed American actor and filmmaker. Best known for his portrayal of Captain America in the Marvel Cinematic Universe, Evans has established himself as a versatile and talented performer. He has appeared in a wide range of films, including "Fantastic Four," "Snowpiercer," and "Knives Out."
With his charming charisma and impressive acting skills, Evans has captivated audiences worldwide. Beyond his acting career, he is also actively involved in philanthropy and advocacy work, using his platform to promote positive change. Chris Evans continues to leave a lasting impact on the entertainment industry with his talent and dedication.
Is Chris Evans Dating Actress Alpa Baptista?
Chris Evans, known for his iconic role as Captain America, caused a stir among his devoted fans when news of his secret girlfriend surfaced in late 2022.
Fans felt betrayed, not because he had a girlfriend, but because he had kept it hidden and led them to believe he was single. The mystery woman turned out to be actress Alba Baptista, with rumors of their relationship starting in 2021 but remaining unconfirmed.
The speculation gained traction when a fan noticed similarities between Evans' Halloween pumpkin post and those shared by Baptista's mother. As the evidence mounted, the couple was eventually seen together, confirming the rumors and leaving fans both excited and disappointed.
Who is Chris Evans's Girlfriend, Alba Baptista?
Alba Baptista embarked on her acting journey in her homeland of Portugal, where she gained recognition for her role in the series "Jardins Proibidos" from 2014 to 2015.
She further solidified her presence in the Portuguese entertainment industry, captivating audiences with her performances in notable series and films like "An Impostora," "Filha da Lei," "A Criação," and "Jogo Duplo."
In a significant career milestone, Baptista made her English-language debut with the Netflix series "Warrior Nun," which aired from 2020 to 2022. Her portrayal in the show garnered attention and introduced her talent to a global audience.
With her diverse range of roles and undeniable talent, Alba Baptista continues to make her mark in the world of acting.
Were Chris Evans and Jessica Biel Engaged?
Chris Evans, an established actor with a career spanning two decades, has had his fair share of dating experiences. In the early 2000s, he was rumored to be dating his co-star from "The Newcomers," Kate Bosworth, although nothing was officially confirmed.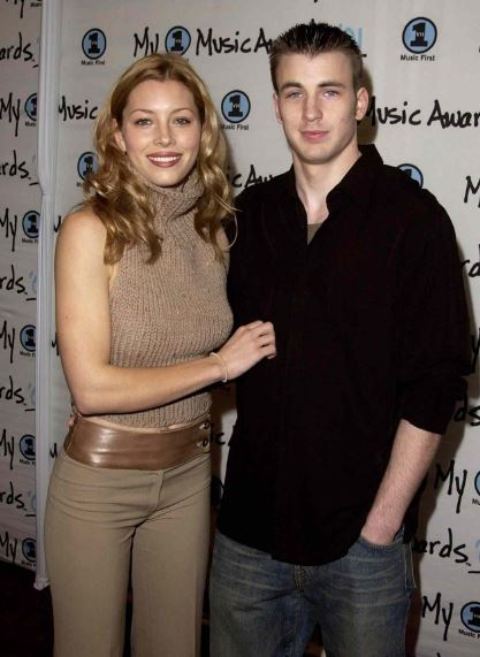 However, it was his relationship with actress Jessica Biel that garnered significant attention. The couple began dating in 2001 and starred together in several films, including "Cellular" and "London." During their five-year relationship, there were even rumors of an engagement, but Biel denied them outright.
Biel expressed her intentions of marriage and starting a family in the future, but unfortunately, their relationship came to an end in 2006 before those plans materialized. Despite the breakup, both Evans and Biel have continued to find success in their respective careers.
Every Women Chris Evans Have Ever Date!
After experiencing a series of rumored flings and brief relationships, Chris Evans's dating history continued to capture attention. The talented actor was spotted engaging in a passionate encounter with actress Emmy Rossum, although their connection was labeled as a fling.
Evans's romantic pursuits also included a short-lived relationship with the stunning Christina Ricci in 2007, followed by rumored connections with Kristin Cavallari, Amy Smart, Dianna Agron, Jana Kramer, Ashley Greene, and even Sandra Bullock.
In 2012, Evans entered a more substantial relationship with English actress Minka Kelly, which had its share of on-again, off-again moments. Another noteworthy romance was with English actress Lily Collins in 2015, but it quickly fizzled out.
However, Evans's most well-known relationship was with actress Jenny Slate, with whom he shared a year-long romance before parting ways due to conflicting schedules.
Chris Evans Wonderful Career Highlights
Chris Evans has had a remarkable career in the entertainment industry, with numerous notable achievements. He rose to prominence with his portrayal of Johnny Storm / Human Torch in the "Fantastic Four" film series, showcasing his charisma and on-screen presence.
However, it was his portrayal of Steve Rogers / Captain America in the Marvel Cinematic Universe that truly catapulted him to worldwide fame. Evans brought the iconic superhero to life, captivating audiences with his embodiment of the character's noble values and heroic spirit.
His performances in films like "Captain America: The First Avenger," "The Avengers," and "Captain America: The Winter Soldier" garnered critical acclaim and solidified his status as a leading actor in the superhero genre.
Beyond his superhero roles, Evans has also showcased his versatility as an actor. He impressed both critics and audiences with his performance in the thought-provoking sci-fi film "Snowpiercer" and demonstrated his range in movies like "Gifted" and "Knives Out." Evans has consistently delivered compelling performances, blending intensity, vulnerability, and charm in his portrayals.
Body Measurement of Actor, Chris Evans
Chris Evans stands tall at 6 feet (183 cm) and maintains a strong physique with a weight of approximately 88 kg (194 lbs). He possesses light brown hair that complements his captivating blue eyes, adding to his charismatic appearance.
Known for his athletic build, Evans boasts a chest size of 47 inches, a waist size of 33 inches, and biceps measuring 17 inches in circumference. His well-proportioned body reflects his dedication to fitness and physical training.
When it comes to footwear, Evans wears a size 11 in the United States. While his dress size is not publicly known, his stylish and impeccable fashion choices have often garnered attention on the red carpet.
Stay With Glamour Fame
-->