Who Is Cristiano Ronaldo Wife? Is He & Georgina Rodriguez Married?
Published Sat Sep 07 2019 By Sea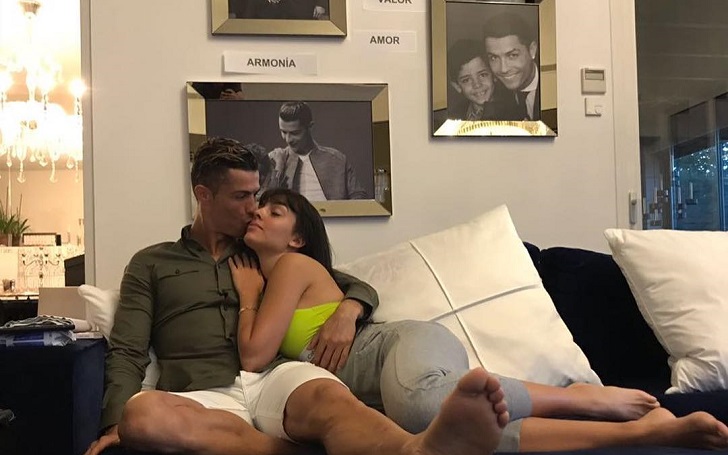 We'll start by clearing it out — NO, Cristiano Ronaldo & Georgina Rodriguez are not married yet. If they were, everyone in the world would know of it. They won't hide it. Here's why.
One of the most renowned couples, Cristiano Ronaldo and Georgina Rodriguez, stay in the spotlight for many reasons. Similarly, the footballing and modeling worlds discussed Ronaldo and his flame Georgina multiple times. Will the soccer legend tie the knot with Rodriguez? The said question remains one of the topics the fans and media chatted about.
We already did it many, many times. The fans and the world know that they are not married yet. Nor are they engaged, despite various media outlets being covered with the stories of the proposal from the boyfriend. We only need the two people to confirm it, and Gio already stepped forward with it a long time ago.
The summary of the story with Georgina
So yeah, the Portuguese star is absolutely in love with Gio (his nickname for her), and she will always be beside him through thick & thin. We've discussed it numerous times, and if you follow her here, you may be tired of hearing it again. But still, a summary is as follows.
The beginning
It is no secret now — they started dating much earlier than they publicly went, in 2017, with the relationship. Many still remember his absurd disguise at Disneyland, Paris, in November 2016.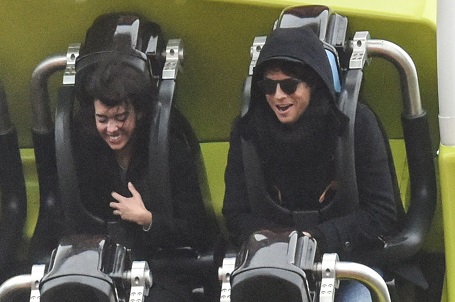 The start of something beautiful.
Source: MCP
Gio charmed him quickly as they met only twice before they were speculated to be dating. The first was at a Gucci store in Madrid, where she worked as a sales assistant (while previously also being a house nanny). The second was at a Dolce & Gabbana event earlier in 2016.
In 2017, the family doubled!
The summer of 2017 was quite something for Gio! In June, Rodriguez held Ronaldo's twins, Eva Maria and Mateo, in her arms. But it was not hers. A non-public surrogate mother provided the opportunity for the striker.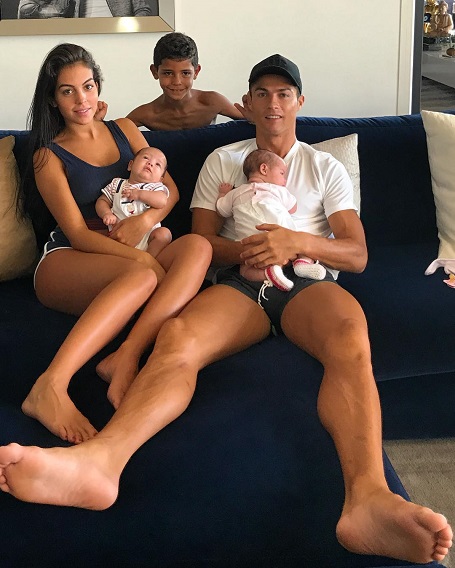 Eva Maria and Mateo came first in 2017.
Source: Cristiano Ronaldo, Instagram
That wasn't it at all. Later we learned Georgina was preparing for his fourth child as well. Rodriguez was pregnant with Alana Martina. On 12 November 2017, the 5-time Ballon d'Or winner announced publicly that his fourth child made her way into the world.
That was a first since the mother of his protege, Cristiano Ronaldo Jr., is also not known yet. It's not something to wonder about that Gio is the mother to all four of them, at least a fairy godmother, if not.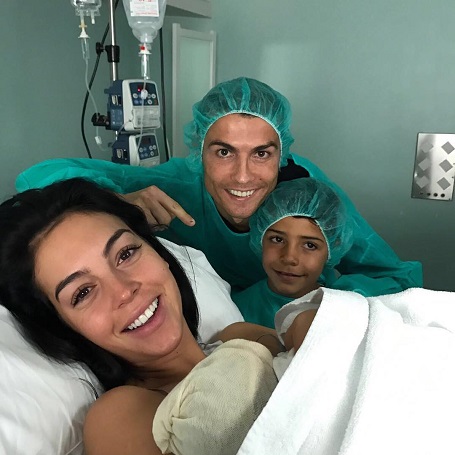 The duo shows off Alana Martina's arrival.
Source: Cristiano Ronaldo, Instagram
Six people and Gio take care of all five of them. Try and get a little emotional.
2018/19 and unsavory events
A Las Vegas hotel rape allegation from nine years back spawned trouble for the former Real Madrid ace, first in April 2017. German publication 'Der Spiegel' published an exclusive feature titled "Cristiano Ronaldo's Secret," and his football agent, Jorge Mendes, dismissed it the coming year in April 2018.
The American woman involved was known as 'Susan K,' but later, in September 2018, she revealed herself as Kathryn Mayorga. She reached Der Spiegel and went public with her own story. A few days later, in October, she filed a lawsuit against the 34-year-old, which made the Las Vegas police reopen the investigation.
The father-of-four claimed what he had with Mayorga was consensual. Another claim was also not explicitly denied by his lawyer in America, Peter S. Christiansen. The both of them agreed to a Non-Disclosed Agreement (NDA), with Ronaldo allegedly paying $375,000 for the silence back then.
The case turned up with a new plot when another woman, Jasmine Lennard, came up with her allegations in January 2019 — that he threatened her against leaving the house when supposedly dating in 2008. The two accusers worked together to prove their accusations in the following months. Although, he insisted he didn't know the new woman. So her claims seemed sketchy.
Related: What Happened to Jasmine's Accusations? Full Story Here.
Nike and EA Sports, who owned deals with him, were concerned, and Portugal didn't let him play for a while. But Juventus remained in full support by avoiding pre-season in the US for his safety. The case timeline until March 2019 is surmised perfectly by Business Insider.
The case finally concluded this July, if you didn't know. After a review of the Las Vegas police investigations into the claims, Clark County district attorney Steve Wolfson confirmed the ex-Manchester United player wouldn't face any criminal charges. The prosecutors found insufficient evidence to "prove the allegations beyond a reasonable doubt."
Breathe easy, Ronaldo's fans. It's all over. What is more important here is that Georgina stood by him through it all. She never stopped showing her support. She defended him, emphasizing that he was a man of integrity. It was a tough time for Georgina since her father, Jorge, passed away in January. Despite having a rough history with him, she was deeply aggrieved.
Along with the allegations, their engagement rumors flew off in November 2018. Of course, it's media, and they went crazy when the power couple was seen wearing matching rings; on their wedding fingers.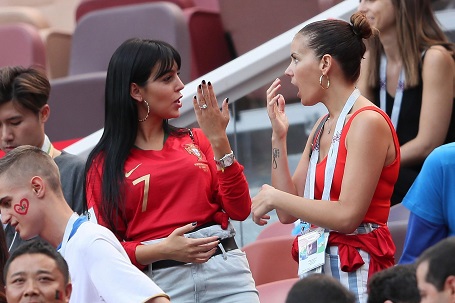 Everyone was quite shocked indeed.
Source: BackGrid
Rumors are rumors, but she had to shut them down; some already called them husband & wife. In February 2019, she told Hola! Magazine that Ronaldo never asked her to marry him, despite what sources said. But Georgina won't stop dreaming of being a wife to him. She deserves it.
The reason they aren't going forward with the relationship is simple. They are super busy with their careers and the household. Gio further added that their work keeps them occupied. Likewise, planning a wedding would take time for Ronaldo and Rodreguez. But, hey, they are already acting husband-wife if you look at their lifestyles. A wedding is just legal proof of their current situation.
Previous flames
As expected, the Juventus striker dated several other women before finally coming on to his current love. Among his previous ones, whom he was publicly and allegedly in a relationship with, were all incredibly successful in their careers when they first started with him. Although many were models, Gio was a step down for him when they started.
Brazillian Jordana Jardel (2003), Portuguese Merche Romero (Jan. 2005 - Sept. 2006), British Gemma Atkinson (2007), Nereida Gallardo (2008), Irina Shayk (2010 - Jan. 2015) and Lucia Villalon (2015) were all either exotic models or TV personalities that were involved with the footie star.
Jordana Jardel was one of the first for Ronaldo in his professional career.
Source: Akhayar
Karina Ferro was one of the rumored ones before his fame in 2002. Soria Chaves was a candidate after his Romero breakup, and he denied the Mia Fukaden gossip. He was fined above $3000 for an incident involving Gemma Storey and Tyese Cunningham. Bipasha Basu was caught making out with him in 2007, and Paris Hilton was never confirmed in 2009 after her breakup with his previous girlfriend.
The bomb was Kim Kardashian being rumored to have spent vacation time with him in 2010 before settling down with Kanye West. Andressa Urach and Rita Pereira were among the rumored affairs in 2013/2014.
Irina Shayk, the one to talk about
The flings were probably too much for CR7, unlike his goals. He found a lasting relationship with Irina Shayk in 2010. Irina was no stranger either. As you can imagine, she was a model too and appeared on the cover of Sports Illustrated's Swimsuit Issue.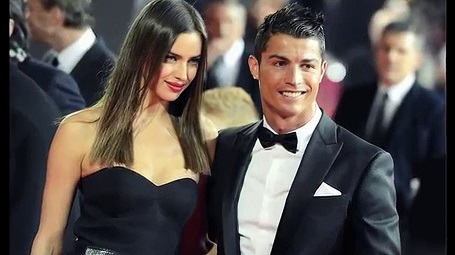 People believed it would last longer...
Source: DailyMotion
The seemingly successful relationship came to an end in January 2015. It was a little confusing as it went out badly for the star. The Russian model revealed later she felt heartbroken due to his actions in text exchanges. He was confronted on New Year's eve and admitted to the claims.
While some believe she disrespected his mother by not attending her birthday party and he had to let her go, The Sun ran a front-page story of how "The Russian model, 29, ended their five-year relationship after finding out about messages from the Real Madrid star, 30, to dozens of women around the world. Ronaldo confessed to his girlfriend after a furious row on New Year's Eve."
The Russian model claimed that she discovered many numbers she didn't recognize attached to the profiles of many women in his messaging app. The guy was alleged to have admitted to it as well. She ended it then & there and spent her birthday alone in the Maldives afterward.
Then there is Gio
In Cristiano Ronaldo's past roller-coaster of relationships, the Portuguese striker seemed to have learned many things about love. He is solely dedicated to the Spanish model. She was not his usual type, but she gave reasons for him to love her. She was entering into the fashion industry (the Gucci job) in 2016. Aspiring to be a model, which CR7 immensely assisted her in.
Ronaldo and Georgina are both lingerie models now! Later in 2017, Geogina's fame rose, and she quit her job in local stores as it was uncomfortable due to the paparazzi and the pregnancy.
Rodreguez's aspiration took the right direction, and modeling was in the past after Alana's birth. Ronaldo's flame needed to remain a celebrity partner. Now she models at big stages and for various campaigns, editorials, and charity events. Yamamay, TWINSET Milano, Alo Yoga, and Kappa are some notable brands she is continuously involved with.
Watch: Georgina Rodriguez made it to the cover of Women's Health Espana
If you dig into her past, you'll find out that she spent her childhood in Jaca of Northern Spain. It's her mother's home, but her father was Argentinian. She was born in Argentina, but her mother decided to raise her by herself in Spain.
Jorge was not much of a role model for her as he was imprisoned and charged on many occasions. Still, his passing deeply affected her. She never sought people's attention or approval when she was young. But as time passed by, she used her beauty to her advantage.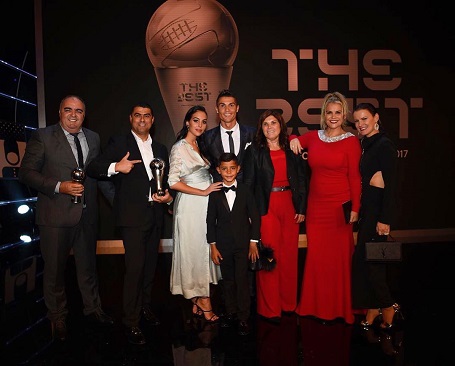 Even through pregnancy, she attended 'The Best FIFA Football Awards.'
Source: Cristiano Ronaldo, Instagram
Despite many allegations and charges, Ronaldo has finally become a faithful man and knows he needs to be a better man because he has four kids to be a role model.
Cristiano must be thankful for finding love in Gio as she never misses out on supporting him. She attends countless games to cheer him on and never misses award ceremonies and events that include him.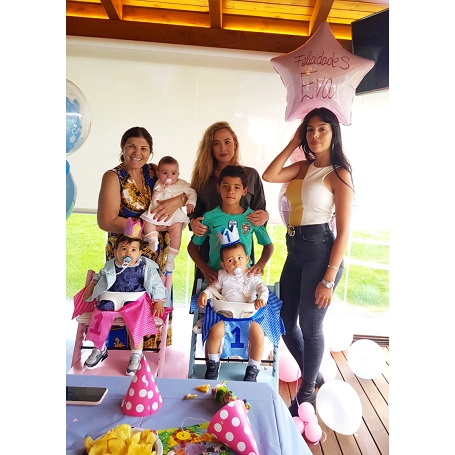 Ronaldo's mom already approves of her!
Source: Georgina Rodriguez, Instagram
It takes a lot of hard work and self-discipline to create a balance between a husband-type boyfriend, kids, self-nourishment, and career. Gio does it all too perfectly and does everything to keep the relationship going strong. If there's anyone Cristiano Ronaldo chooses for the long haul, it must be Georgina Rodriguez. What's more, she already seemingly got the approval from his mother, who sweetly calls her daughter-in-law. You must know that by now.
-->