Who Made It to the 'American Idol Top 10'? Here's the American Idol Recap For You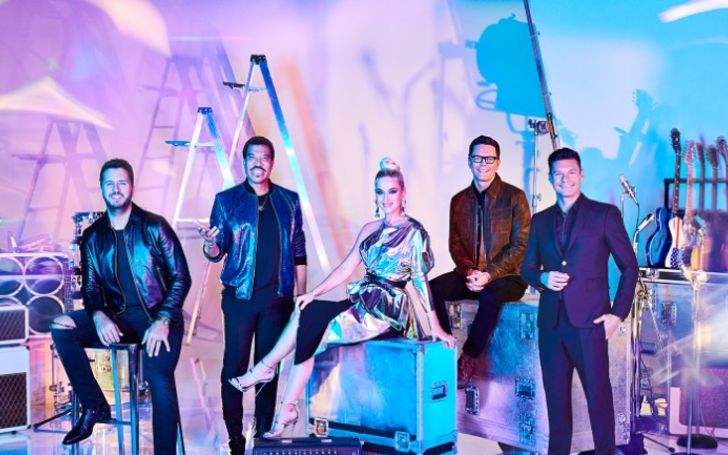 The show American Idol's been a household name since as long as we can remember. Either it be in our televisions or running around at the top of our social media feed, the melodious cohorts of new talent never fails to amaze us audience.
We've heard our current favorite singer's belt out their lungs and show some really good talent to suffice why they are the singing sensation today. It being none other than our famous American Idol alums, 'Katy Perry,' 'Carrie Underwood,' 'Kelly Clarkson,' 'Adam Lambert,' 'Jennifer Hudson,' 'Chris Daughtry,' the list goes on and on.
Slowly but steadily, we have the current American Idol contestants warming their way into our hearts, which leads us to wonder if we may get our next top star among these contestants. This is precisely why today we are going to gloss over the recap of the top 10 American Idol contestants who made their way from the top 20.
1. Louis Knight
With the judges, Luke Bryan, Katy Perry, and Lionel Richie cuttingthe contestants to half from 20 to 11, the first one to get selected was our very own British hunk, Louis Knight. The uprising singer charmed the judges and the audience with a song, 'In My Place' by Coldplay on his porch while playing the piano.
Watch: Louis Knight: The American Voters Embrace This British Talent | American Idol Top 10
Knight seemed to know the trick to warm his ways into people's hearts when he revealed he was delivering pizzas to the health care workers during the pandemic in his spare time. While judge Bryan commented he wasn't completely blown away by the performance, Perry couldn't stop gushing how it made her feel an escape from listening to his voice.
2. Julia Gargano
The next one to get selected was Julia Gargano, who started off with her bubbly self, giving a tour of her house, stepfather, and her room. As for the song, Gargano donned herself in a beautiful red dress and chose to sing, 'New York State of Mind' by Billy Joel.
Watch: Julia Gargano Gives A HEARTWARMING Performance In Her New York State Of Mind - American Idol 2020
This week we could see the singer entirely ditching her instruments and showing us some excellent singing skills with her voice alone. Which worked for her as the excited judges went as far as to give a standing ovation to the lady.
You May Also Like: Charles Barkley Net Worth - Find Out How Rich the Former Professional Basketball Player is
Lionel commented the performance as fantastic, Luke thinks it deserved to be called as the performance of the year, and Katy thought, Julia grew to a higher level as a singer.
3. Jovin Webb
Coming up with a funky, soulful, and southern beat, the third artist to get selected is none other than Jovin Webb. He particularly chose to sing 'Voodoo' by Allen Stone, a song that represents his New Orleans culture. To be honest, this was already a win-win situation for Webb as he seemed to vibing with the song.
Watch: Jovin Webb: The Louisiana Hot Sauce Brings Classic SOUL To The American Idol Top 10
This was easily one of the best performances of the night, which was why it was no shock when the judges announced his selection. Again, Luke called Jovin as a performance of the year, and Lionel termed it as magic, and Katy said what every one of us was thinking, Webb, made us feel like we were at a bar in New Orleans enjoying a dirty martini as he performed.
4. Grace Leer
The fourth artist on the Top 10 is none other than the singer who charmed everyone with her well-chosen, the classic song 'Somewhere Over the Rainbow' by Judy Garland, Grace Leer. This wasn't a song we expected to hear from a country singer, but the moment she started, we knew it was a hit.
Watch: Grace Leer: Country Girl Brings Back a Childhood Favorite Showcasing a Different Side
This iconic tune from 'The Wizard of Oz' made all of us reel with the memory of this sweet song, and it also showed us a different side to Leer. Although Lionel was quick on his feet to caution, Grace not to stray too far from her country roots that brought her this far.
5. Jonny West
The fifth lucky contestant is Jonny West; frankly there's no luck here but pure talent. That was pretty much evident in his spectacular performance of Journey's 'Faithfully.' Without a doubt all this season, West is already hitting the nail on the head with his choice of songs that's taken him so far on the show.
Watch: AMAZING! Jonny West Gives Moving Performance of "Faithfully" By Journey - American Idol 2020
Faithfully was just another example of it with an ample amount of emotions layering throughout the song. In the midst, he sounded sexy with his classic laid back version of the rock ballad.
Interesting: Learn All The Details Of American Idol Winner Laine Hardy's Record Deal With Hollywood Records
Katy was fangirling while comparing him to Alejandro Aranda and couldn't wait to see him stringing some beats on a concert. That's something even we as fans would love to witness in the coming future.
6. Sophia James
The lovely family girl, Sophia James, was next in the line while playing, 'In My Room' by the Beach Boys in her actual room. James recorded the song in her room while strumming some tunes in her piano, fitting perfectly with the lyrics.Her performance would be a great hit as a live audience, but this also works nonetheless.
Watch: Sophia James: Girl Takes America Into "Her Room" on American Idol Top 10
The judges seemed to love her as well, Lionel loved her delivery of song from top to bottom whereas Katy says, Sophia will have a spectacular career in music whether she wins the show or not. Well, from the way James completely upturned the classic song, it was a sure selection for her.
7. Arthur Gunn
Next in line is Nepali boy Arthur Gunn who's been stealing hearts since the day we first saw him in his auditions. All in all, we could see the candid guy doing some cooking around with his traditional cuisine, aka dumplings.
Watch: Arthur Gunn: Takes Classic "Country Road Take Me Home" And Turns It Into Unique Regge Style
Honestly speaking, he already had us right there with the delicious looking dumpling. As for his song, Arthur seemed to be having a blast, jamming on his signature style guitar on 'Take Me Home, Country Roads' by John Denver.
Also See: Madonna Plastic Surgery - Find Out Why People Think The Iconic Pop Diva Went Under the Knife
The reggae twist on the song was immediately noticed, and it was also pointed out by Lionel. As for the other judges, Katy felt Gunn did a better job at connecting with the audience this week, which is what she's been telling the guy since his audition days.
8. Just Sam!
The eight one on the line is Just Sam with her sweet dedication song to her grandmother with whom she was on a social distance. She gave a powerful yet equally emotional performance with her song, 'Grandma's Hands' by Bill Withers.
Watch: Just Sam: An EMOTIONAL Performance From a Lonely Hotel Room on American Idol Top 10
The raw song seemed to adjust right itself right into the vocals of the singer as she impressed everyone with the melodies, including the judges. Well, she better ring her Grandma and give the good news of entering the top 10.
9. Dillon James
Nothing can ever go wrong with Beatles, that's just what Dillon James made us feel with his eccentric performance. James made sure of that with the uplifting performance of 'Yesterday' by The Beatles. The classic song surely took us back to the 70s with the entire vibe right around the corner.
Watch: WONDERFUL Dillon James Is Smooth Singing "Yesterday" by The Beatles - American Idol 2020
However, he did get mixed reviews by the judges, as Katy wanted him to paint a little beyond the lines, and Luke wanted Dillon to slow down a bit. Well, improvisation can be done, at least he is still in the game.
10. Francisco Martin
Last one, or so we thought, was none other than Francisco Martin, who impressed everyone with his rendition of 'Falling Like The Stars' by James Arthur. The performance was every bit worth his selection with emotional, powerful, and authentic singing.
Watch: Francisco Martin: Katy Perry In Puddle Of TEARS After This!
At the end of the song, Katy was sobbing while feeling the lyrics and Luke, Lionel called him as a diamond in the rough with a true talent. His performance felt like we were hearing a sixth member of 'One Direction'.
11. Makayla Phillips
The last one to be the judge's saving Grace was Makayla Philips with her performance of 'The House That Built Me' by Miranda Lambert. The song was one of her best choices till now, but still, we feel she could do so much with the scale of her voice. Nonetheless, her performance was still bewitching enough to give her the last squeeze into the show.
Watch: Makayla Phillips: California Teen POURS Her Heart On American Idol Top 10
Besides these contestants, the ones that sadly didn't make it were Cyniah Elise, Aliana Jester, Franklin Boone, DeWayne Crocker, Jr., Faith Becnel, Kimmy Gabriela, Lauren Spencer-Smith, Nick Merico, and Olivia Ximines.
Recommended: A Tour at Kylie Jenner's Arresting Wardrobe Collection & Fashion Trends
This is all, hope you enjoyed the read. Be sure to check out Glamour Fame for an endless supply of similar articles.
-->