Why Does Iggy Azalea's 'Sally Walker' Sound Similar to Cardi B's 'Money'?
Published Sat Mar 16 2019 By Chester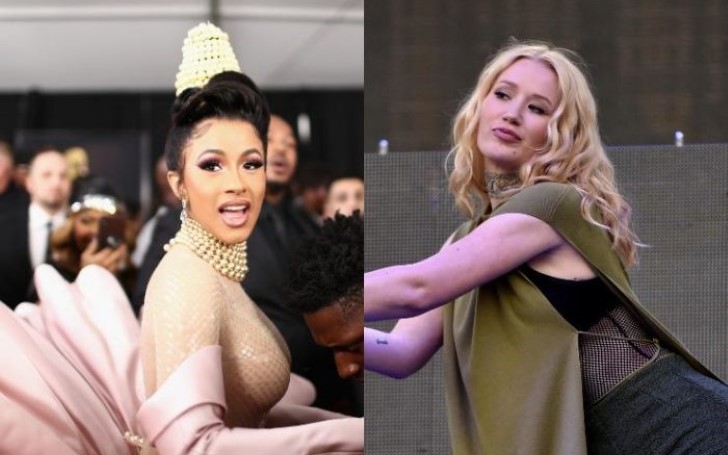 Rapper Iggy Azalea's new song "Sally Water" is alleged for sharing a similar soundtrack as Cardi B hit song "Money".
Recently on March 14, Iggy Azalea released her first music video 'Sally Walker' from her new album 'In My Defence', 2019.
Iggy is currently releasing her 2nd studio album since her last "The New Classic" back in 2014. The new Sally Walker has already crossed 6 million views and ranked at number 1 spot on some streaming sites such as spiking tracks within a day of release. This is regarded as the 'Fancy' singer major comeback after a while.
The 28-years-old starts her video with an unexpected girl hit by a car and later Iggy is seen twerking, swagging and, seducing with her alluring looks and moves in rest of the video.
Did you know: One Direction Star Louis Tomlinson's Sister Felicite Passes Away Aged 18
However, the video is currently creating a lot of controversies and criticism for having the common type of beat as Cardi B's superhit track 'Money'.
Well, the producers seemed neutral with the news as if he knew it all from the very beginning. As a matter of fact, both of the superhit tracks are produced by the same beatmaker J. White.
It is also rumored as a shortcut policy for making Iggy's new song hit like Cardi's sound-alike song "Money" which has 58 Million views on Youtube.
Also, see: Fans Shout 'Cardi B, Cardi B' as They Troll Nicki Minaj For Canceling Another Concert
The producer shares a good relation with Cardi B, He has produced some of the Cardi's previous hit songs like "Bodak Yellow". According to complex, JwhiteDIDIT shared his experience working with Cardi B saying:
"Since I first worked with her to now, she knows how she likes her hi-hat. I'm like, 'Dang, girl. You've been studying or something? What's going on? You done came back like Quincy Jones.'"
The similar kind of sound has also been known as a publicity stunt done by Mr.White to create some controversies and attracting some fame.
Must See: Iggy Azalea Slammed Person who sent her Semen in the Mail
After lots of comparison and rumors started popping out in social media regarding Cardi and Iggy, J retweeted a tweet by a fan.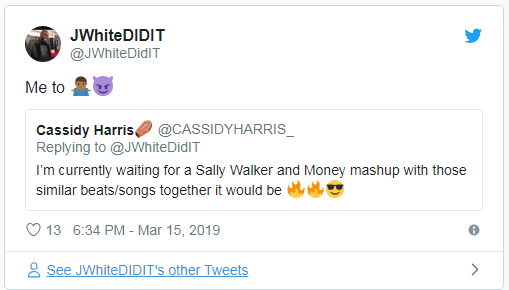 J white Twitter responds to a tweet regarding similar beats
SOURCE: Twitter
The controversies got cleared soon after White retweeted a post by Cassidy Harris where she wrote
"I'm currently waiting for a Sally Walker and Moneymashup with those similar beats/songs together"
Perhaps the two Hollywood star rappers are up to something this time.
-->