Brie Larson Teases How Captain Marvel Might Destroy Thanos In Avengers: Endgame
Published Fri Apr 19 2019 By David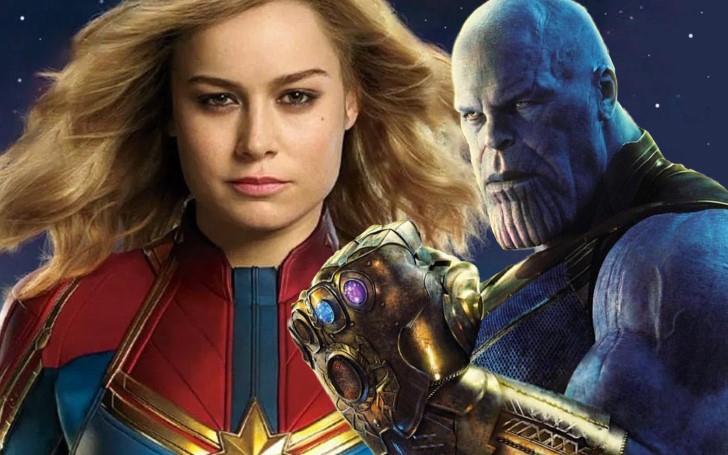 Brie Larson hints how her character is going to defeat Thanos in Avengers: Endgame.
Since it's almost in the stones that Thanos will be killed or at least defeated in Avengers: Endgame, Brie Larson aka Captain Marvel has shed her opinion on how Captain Marvel could help it happen. There have been several speculations as to how the Avengers will pin down the Mad Titan - including the infamous, "Thanus" theory - and Larson definitely has an intriguing approach.
Captain Marvel the movie, easily earns Carol Danvers (Larson) a high ranked spot among Earth's Mightiest Heroes. Delving through the mystery of her past, ending an intergalactic dispute, and forming some cosmic alliances, she's become one of the strongest super-powered characters in the entire Marvel Cinematic Universe.
Captain Marvel drops a major hint about how she is going to defeat Thanos.

SOURCE: Cinema Blend
Now that she'll be officially joining Team Avengers in Avengers: Endgame, Thanos should be concerned a bit more than Infinity War. However, as far as what Danvers' plan might be to stop Thanos, Larson has a couple of options - one that seems very typical with Captain Marvel yet completely unexpected.
Also Read: Game of Thrones's Night King Actor Vladimir Furdik Sleeps in the Full Night King Costume
When the Academy honoree actress visited The Late Show with Stephen Colbert along with other Endgame actors, she was individually asked what Captain Marvel has up her sleeves when it comes to finishing off the purple giant. Her first answer is a fake-out, where she said that she'd simply use "compassion." When asked if she's for real, she said,
"No. I'm going to punch him into the sun."
Carol has been promoted as the strongest member of the Avengers, so Larson's method of killing Thanos isn't completely implausible. Before Captain Marvel even began its production, Kevin Feige, the head of the Marvel Studios made it clear that the character is the most powerful member of the Avengers.
Watch Brie Larson On The Late Night With Stephen Colbert
So, even if her actual method of defense in Avengers 4 seems way too supernatural even by the standards of superheroes, it's still probably something that she's perfectly qualified of pulling off.
Recommended: 'Black Panther' Star Letitia Wright Added To 'Death on the Nile' Cast
Until the theatrical release of Avengers: Endgame, it's tough knowing what to believe when it comes to the cast of the movie uttering anything about its storyline. Given how reticent they need to be, any information they give could either be an absolute lie or possibly some modification of the truth revealed solely to mislead the theorists and fans alike.
On the other hand, it would be more fitting of the original Avengers to actually take down Thanos, but still, Captain Marvel doing the job could be one heck of a highlight of the movie.
Don't Miss: Thor 4 Is Reportedly In The Works; Taika Waititi May Return
The Anna Boden and Ryan Fleck-directed "Captain Marvel" is currently vying to surpass $390 million at the domestic box office. The film is the year's first billion-dollar mark with its present box-office gross being at $1.068 billion (globally).
-->