Corey Feldman Dramatically Pulling Back Support For Friend Michael Jackson In Light Of "Horrendous" Child Sexual Abuse Allegations
Published Sat Mar 09 2019 By Chester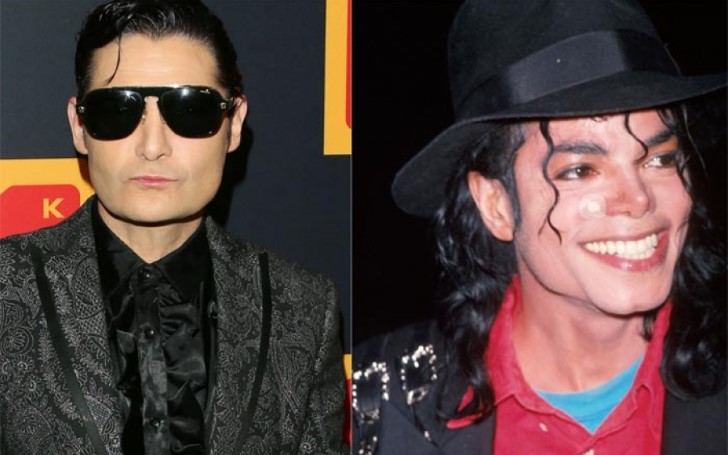 The Legendary pop star Michael Jackson's longtime friend Corey Feldman pulls back support for Michael from "horrendous" child abuse allegations.
Michael Jackson and Corey Feldman first met on a set back in 1984 and the two initially became friends then after.
HBO recently released a biopic based on Pop star Michael Jackson's case related to child molestation back on January 24 at Sundance Film Festival, 2019.
The documentary was later aired in America on Wednesday, March 6. Soon after it's release the four-hour-long series drew many controversies from the critics as well from Michael's close associates and relatives reporting it as 'pathetic' and 'horrible'.
Find out: Riverdale Pays Tribute To Luke Perry in First-Episode Since Actor's Death
Similarly, during the ongoing allegations made by the documentary "Leaving Neverland" which was directed by Wales Robson and James Safechucks, Feldman initially criticized the film calling it one-sided without false story writing, firstly on Twitter later on CNN-HLN. The 'Gerlims' actor clarifies his longtime friendship with Michael stating that 'it was nothing inappropriate.'
Feldman was shortly invited on CNN to clarify comments he made on Twitter regarding the controversial Michael's dark sided subject on Monday. The actor disagreed with the HBO documentary "Leaving Neverland" after watching the first sequel and saying he couldn't watch further stating it as "one-sided" and injustice to victims who are unable to defend him.
On Wednesday, The 'Stand by Me' star appeared on HLN Headline News to justify his longtime friend's innocence and ongoing fake accusation. In the interview, he opens up about Michael's real character and their brotherhood relation.
Also find: Kahlua Finally Releases Espresso Martini In A Can
The former child star exclusively shares his relationship with Michael on a recent interview by HLN saying:
"Michael was my friend, but that doesn't mean I condone any harmful behavior, physical or mental. This is new information to me too. It takes time to absorb and process."
Interviewer:
"Thanks to being with us, let's absorb that last line. Absorbing, processing where are you?"
Corey Feldman replies:
"Well, as I mentioned my statement it is obviously a very emotional time for me and it is a very emotional process for any survivor of the abuse, anybody that has been through these things."

"First of all, I ask people to put themselves in my shoes. You know you are a kid who has endorsed sexual abuse and during those times I looking to somebody like Michel as a friend as a big brother figure and he was that person to me."

"However, as you are friends with him and you hear more and more accusations being thrown around by various people and it comes to a point where as in advocate for victims as an advocate for changing the state till limitation to make sure the victim voices are heard."

"It becomes impossible for me to state virtues and not at least consider what is said and not listen to what the victims are saying. We must allow their voice and we must allow them to speak and therefore we must consider all sides of this even as uncomfortable as it may be."
CNN reporter:
"What was your relation with Michael Jackson? what was it like?"
Feldman says:
"Absolutely nothing inappropriate ever happened and we were friends you know as I said I have a tape of the two of us hanging out and if you hear you can find out the innocence of the conversation."

"I don't wanna be perceived here as defending Michael cause I can no longer change that, in fact, I can no longer do that. I can no longer in my consciousness defend anyone who has been accused of such horrendous crimes."

"I'm also not here to judge him because again, he did not do those things to me and that was not my experience."

"So, therefore my place is not to be judged, no to be the accuser, no to be the defender, my job is to fulfill most important which is helping to reform the state of limitations to prevent from this things to ever getting to the point."
Corey defends his longtime friend by exclusively sharing it on the internet and media. Feldman additionally shares his molestation case filed back in 1993, the same time police were investigating Michael for the first time.
"Well, I've never got any justice. So, I am planning to create my own documentation with my story being heard all over. We can help abolish the statute of limitation."
Michael estate currently filed a lawsuit of $100 million against HBO reporting for ruining the image of such legendary icon. Feldman later got asked by the interviewer about his experience after the movie.
"OK I watched it all I know is what I experienced, & yes every experience was the same....right up 2 the sex part! That is where it becomes LaLa Land, instead of Neverland 4 me...

"So as much as those 2 men deserve 2 (have) their voices heard, so do the thousands of kids who hung around him, that don't agree!"
The Lost Boys star initially shared his feedback regarding the HBO documentary back on Monday, March 4, 2019.
#Neverland OK I WATCHED IT ALL I KNOW IS WHAT I EXPERIENCED, & YES EVERY EXPERIENCE WAS THE SAME....RIGHT UP 2 THE SEX PART! THAT IS WHERE IT BECOMES LALA LAND, INSTEAD OF NEVERLAND 4 ME. WE NEVER SPOKE ABOUT SEX OTHER THAN A FEW WARNINGS ABOUT HOW SEX WAS SCARY, & DANGEROUS. MJ

— Corey Feldman (@Corey_Feldman) March 4, 2019
HOWEVER I DO TAKE ISSUE WITH THE FACT THAT THIS WHOLE THING IS 1 SIDED W NO CHANCE OF A DEFENSE FROM A DEAD MAN, & NO EVIDENCE OTHER THAN THE WORD OF 2 MEN WHO AS ADULTS DEFENDED HIM IN COURT! BUT AS WE WILL NEVER REALLY KNOW, I ONLY HAV

— Corey Feldman (@Corey_Feldman) March 4, 2019
GIV PPL A REAL LOOK @ WHAT A 30 YR OLD MAN/CHILD & A 13 YR OLD BOY WOULD DISCUSS, SO EVERY1 COULD HEAR THE INNOCENCE OF R RELATIONSHIP. AGAIN I WASNT THERE WHEN THOSE BOYS WERE. BUT I WAS THERE AROUND THE SAME TIME AS JIMMY, & I SAW MANY KIDS AROUND (GIRLS INCLUDED) WHO I AM

— Corey Feldman (@Corey_Feldman) March 4, 2019
However, the documentary is centered around James Safechuck, 40 and Wade Robson, 36 who explains their stories being allegedly abused by Michael during their childhood age at 10 and 7 respectively.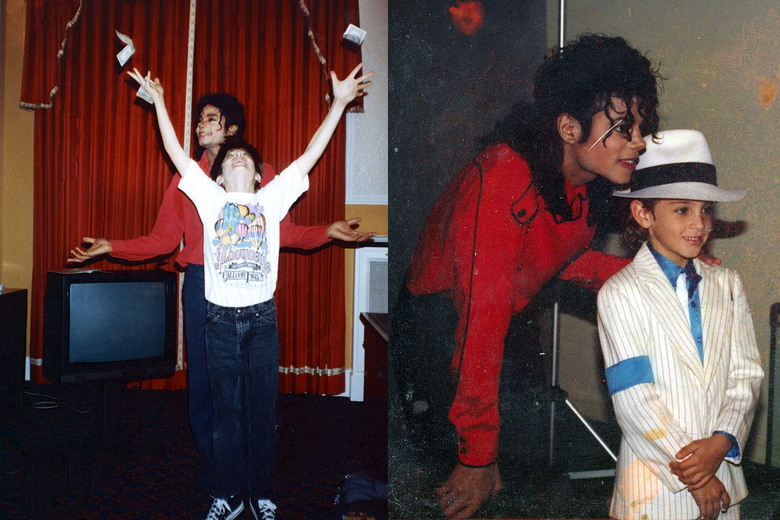 Michael Jackson with James Safechuck and Wade Robson.

SOURCE: Slate
Surprisingly, back in 2005, Safechuck denied being assaulted, instead supported the Smooth Criminal star during the ongoing sexual abuse case back in 2005. In fact, there are different controversies regarding the case. According to an employee of the 'Neverland', Safechuck frequently used to visit and hang out with the 'Billie Jean' singer and saw Chuck and Michael lying on a bed together nude from the waist up.
Also, find exclusively: Following Fox News Mix-Up with Robin Roberts Gayle King Says 'All Black People Don't Look Alike'
According to Daily Beast reports, 8-years after the denied assault '2005' case, Safechuck surprisingly filed Michael stating that he was accused by the star at the age of seven to fourteen and sued Jackson estate. According to reports from Daily Mail and secret FBI files, Jackson authorities paid more than $35 million in 15 years to cover up his pedophilia around two dozen young boys.
Recently the media and internet have been wondering and gossiping all over MJ's controversies. Extensively since HBO released the documentary on March 3rd and 4th. So, what do you guys think about the mystifying accusations of Michael? Do you think Michael intentionally molested the kids or the con artists allegedly accused MJ?
-->