Duggars FINALLY Address News That Jinger Is Moving to LA!
Published Mon Apr 29 2019 By Jessica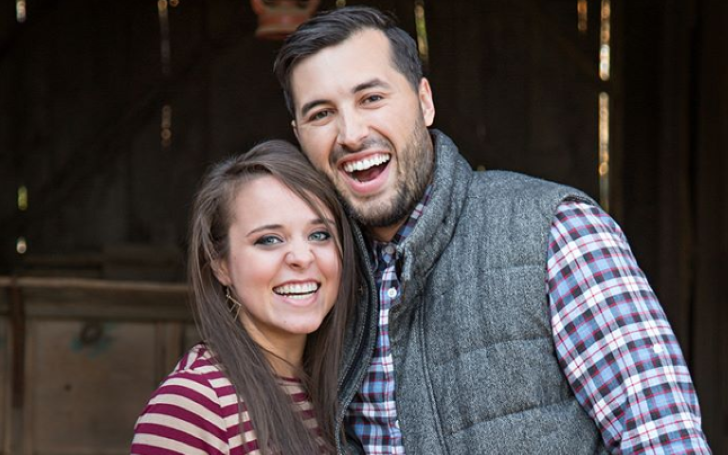 Duggars finally respond to their daughter; Jinger Duggar Vuolo moving to LA.
'19 Kids and Counting's star Jinger Duggar Vuolo and her husband, Jeremy Vuolo, announced to their fans that they were leaving Texas and moving to Los Angeles.
The 'Counting On' couple took to Instagram to share the exciting news just a week earlier.
By reading their statement on the news, the reason behind the couple leaving their home in Texas was because Jinger's husband wanted to attend and pursue a degree from a divinity school in LA.
Recommended: 90 Day Fiance Star Ashley Martson Has Already Found A Brand New Man
This is also because the seminar school requires a mandatory attendance of their students in their respective classes.
Jinger Vuolo pictured with husband Jeremy Vuolo and their daughter Felicity Vuolo.

SOURCE: Jinger Vuolo Instagram
The two wrote: "Through much prayer and counsel, the next step for our family is to relocate to Los Angeles to attend Grace Community Church as Jeremy pursues graduate studies at The Master's Seminary,"
Regarding the news, the fans expressed mixed emotions. Whilst some of them were happy for Jeremy following his dream, the other seemed quite upset that they were leaving their home in Laredo. But, what about their parents?
Previously, it was reported that Jinger's parents Jim Bob and Michelle Duggar were not impressed with the decision and that they even abandoned them and their nine months old granddaughter; Felicity Nicole Vuolo.
You may also like: Is Jenelle Evans Still Getting Paid For Teen Mom 2?
As a matter of fact, the two were not even speaking to their daughter and son in law.
That's apparently because Jinger is the first one in the family to come up with such an extreme decision to stay away from her family.
A news outlet also claims that Jeremy even brought more confrontation to his in-laws since he's more open-minded than Jim and Michelle.
However, some of the insiders now claimed that Jim and Michelle accepted their decision and are more than thrilled for their daughter and son in law to start a new journey on the sunny side of the country.
The parents of nineteen kids are very excited to see what Jinger and her little family will be doing in LA.
However, on the contrary, of course, they will miss their granddaughter and staying away from little Felicity is not going to be easy for them as grandparents.
Thanks to technology though, they can at least facetime to update and check up on Jinger and her family.
Jinger and Jeremy married two and a half years back in November 2016 shortly after their courtship and welcomed their first child last year.
Whilst, it's not certain when the Vuolo's will return to Texas, fans expect them to move back once Jeremy is done with his studies.
In other news: Wendy Williams Throws Shades At Husband By Joking About Being Poisoned
Hopefully, they will keep visiting their family in Texas on holidays.
-->