Game Of Thrones Director Reveals The Devastating Line Jaime Said Off-Screen That Made Brienne Cry
Published Fri May 10 2019 By David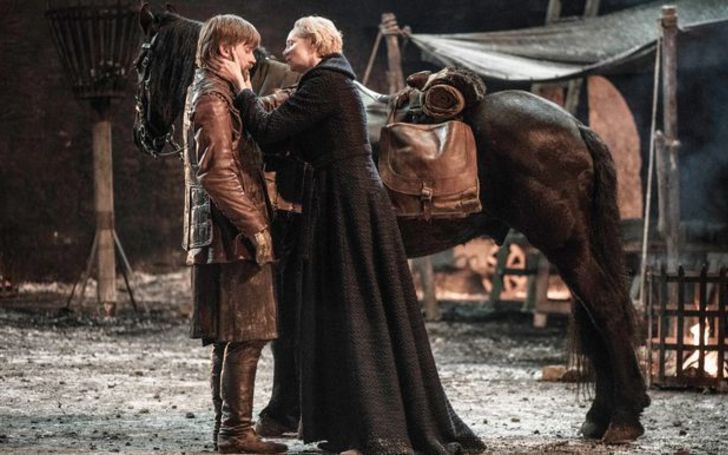 Game Of Thrones Director Explains What Actually Went Behind Jaime and Brienne Which Eventually Made the latter Pour Her Eyes Out.
Game of Thrones season eight, episode four turned out to be heartbreaking for the fans of Nath's Missandei, Brienne of Tarth, and of course, the dragon. And, now the episode's director, David Nutter revealed what "Jaime" (Nikolaj Coster-Waldau) said off-screen to make the recently knighted "Brienne" (Gwendoline Christie) cry.
'When I was shooting Gwendoline [Christie]'s close-up, what I asked Nikolaj to do is, I asked him to say — after he finished his dialogue — tell her, "I don't love you anymore",' Nutter disclosed to Collider.
Jamie loses his hand whilst vouching for Brienne in GOT season 3 Episode 3.
'And basically, Brienne is such a sensitive person, as is Gwendoline, that that's basically the thing that he's saying… but he's not saying it too directly.'
David further explained he basically had him say it off camera and when Nikolaj Coster-Waldau did that, Gwendoline's character basically lost it completely and added that's the reaction which was actually kind of being recorded at the point. And as it turned out, the scene was indeed heartbreaking.
Also Read: Is Game Of Thrones' Melisandre Actress Carice Van Houten In A Relationship? Who is Her Boyfriend? Does She Share A Baby?
Jaime helped Brienne to what it was really like to have a man's touch (in that sense), after which we saw their relationship blossomed into something more than just physical. This all made Jaime and Brienne's separation even more sadistic.
But there's still a hope that Jaime may not have left Brienne because he never loved her. It could be because he just is not able to leave "Cersei" (Lena Headey) that vulnerable or perhaps in the hope of eventually talking some sense into his twin sister/former lover.
Either way, now that he is heading to Kingslanding, everyone is wondering if the Kingslayer is back to being evil from having established himself as one of the favorite grey characters.
Brienne (A Song of Ice and Fire)
Brienne first appeared in season 2, episode 3 of Game Of Thrones.
In the novels, Brienne is considered ugly and inelegant but is immensely skilled at combat. She is taller and stronger than many men, and her father and his head of household guards helped her to be so by putting her in the training for many years.
Brienne is described as unlovely: her hair is drawn as a squirrel's nest of dirty straw; her physique is broad and coarse; her teeth are crooked and prominent; her mouth's too wide; her lips often seems to be swollen; a thousand freckles on her cheeks and brow; and her nose being broken more than once. Her only lovely physical attributes are her eyes, large and very blue, trusting and guileless. Very few characters (Renly, Cortnay Penrose, Catelyn, and Jaime) see aside from her ugliness and realize that she is honest, decent and honorable, if also stubborn and naive.
Recommended: 'Game Of Thrones' Star Issues Hilarious Instagram Apology To Character He Killed
Brienne is the eldest daughter of "Lord Selwyn of Tarth". She had two younger sisters but they both died during their infancy. She had an older brother named Galladon, but he drowned when she was eight years old, leaving her as Selwyn's only surviving heir. GoT vaguely mentions this in Season 5's "High Sparrow" when she described herself as her father's only "living child". She has been engaged three times (contracts made by her father, none of which ended in a wedding)
-->