Jenelle Evans Celebrated Her Son's 10th Birthday By Arming Her Kids With A Bunch Of Toy Guns
Published Wed Aug 07 2019 By Chester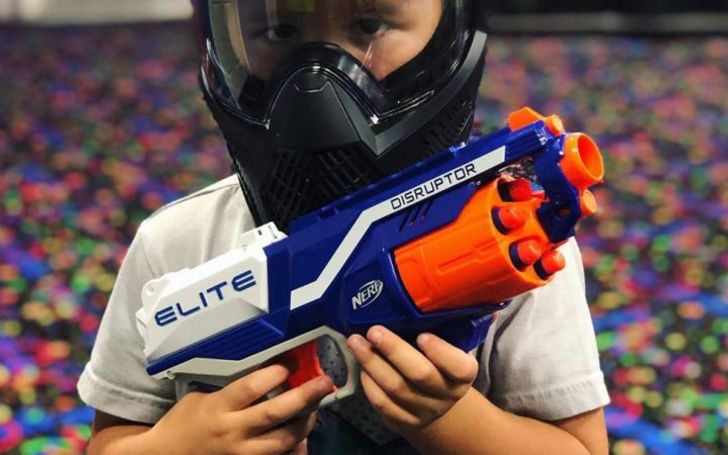 After the recent ongoing controversies, scandals and drama in the family, Jenelle Evans celebrated her son's 10th Birthday arming his kids with a bunch of toy guns.
Over the period the Internet has been shocked as well frightened seeing the psychotic act of David Eason ;arming guns, slaughtering his bulldog 'Nugget,' killing farm animals and threatening people. The scandal that even led Jenelle and David lose the custody of their children.
And just weeks after David, 31, and Jenelle, 27, regained the custody of their children the recent snaps from their older kid birthday circulates everything back.
All the family members, Jenelle, David, Maryssa, and Kaiser celebrated the 10th birthday of Jace together, having fun and learning to shoot the gun, however, the audiences did not admire the recent birthday surprise instead came up with backlash saying, it was inappropriate to 'hand a gun' their kids noticeably after seeing so much in the family.
Jenelle Evans Is Speaking Out About Her Health Problems Again While Fans Remain Skeptic! >>>
The mother-of-three initially acknowledged his son sharing a post on Instagram posting a timeline snaps with a mesmerizing caption on it.
"#HappyBirthday to this very special boy! You're the best son and best big brother anyone could ask for. You might be getting older but you'll always be my #LittleMan Here's to another year of getting older! #StopGrowing #TimeFlies," wrote Jenelle as a caption to this photo montage.
Subsequently, the former teen mom star shares another family photo with her younger and oldest kid writing, "we had so much fun! Thanks so much @wilmingtonpaintballandnerf for having us! The kids had a blast and pretty sure this is the best party Jace has ever had."
Summing up the whole thing and accounting the criticisms, we can't say the former Teen Mom 2 stars does not care about their children, but the way they are parenting is just not an appropriate way of raising the kids.
Jenelle Evans Disabled Comments on Controversial Ensley Picture On Instagram >>>
Check out some of the snaps that brought about a lot of backlash from the fans,
We know it's a toy gun, duh. But critics are asking, 'why toy gun! Out of a billion other fancy things you could possibly gift?'
With that attitude and style, he is inclining towards David Eason's footsteps; fans are worried that the birthday boy might follow the path of his psychotic dad.
If you are updated with the family drama, then you might remember this snap as Eason murdered their family dog.
"Me and Jace had a blast killing squirrels yesterday! He has a great shot!" wrote Eason as a caption to a photo in January 2019. "I taught him how to skin and clean them, and yes we do eat these critters. They are actually very delicious, got em on marinate right now!"
We don't think both the parents will ever learn the appropriate way to grow their kids. Well, we hope Jenelle and David, who are trying hard to sustain the image back in everyone's eyes, will also find a way to defeat the problems.
Jenelle Evans And David Eason Just Got Two New Puppies And Literally Everyone Is Mad About It! >>>
Stay tuned and connected to find updates on the news.

-->