Kendall Jenner Opens About New Skin-Care Products During the Golden Globes Award
Published Tue Jan 08 2019 By Jessica
Supermodel Kendall Jenner revealed about the skin care products she uses after suffering from an acne breakthrough at the Golden Globes Awards last year.
At the 75th Golden Globe Awards show last year, the beautiful supermodel Kendall Jenner attended the event all confident with a perfect hair and a perfect makeup in a black fancy gown. Her gown caught and earned everyone's attention and compliments, but what's new right?
But, there's not always a bright side to the story.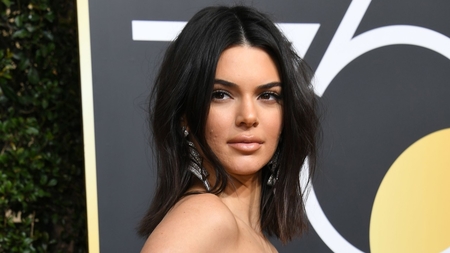 Supermodel Kendall Jenner at the 2018 Golden Globes Awards
What we are indicating is that after her Golden Globes red carpet pictures hit the internet, other than receiving compliments on her gown, the 23 years old model had no idea what else was coming ahead of her.
You may also like: Kourtney Kardashian Wears a Thong Bikini In The Snow During Family Trip
At her pictures, people noticed acne and zits on her face and of course, those people didn't even hesitate a minute to point out her flaws.
As a matter of fact, Kendall who likes appearing braless in red carpets received tons of trolls and negative comments about her acne.
In a recent ad for Proactiv, Kendall opened about the trolls and hate she faced after the awards show last year.
As per the ad, she precisely remembers all the excitement she felt about the Awards show, but poor Kendall also remembers the horrible comments (as she calls it) from people online.
Also see: Khloe Kardashian Kissing Boyfriend Tristan Thompson To Welcome 2019 on Midnight of New Year's Eve
However, besides negative people, there existed positive and supportive people about Kendall welcoming her acne publicly.
And when Kendall began searching for the solutions to her acne, that's when she found Proactiv.
The top paid model proudly says in the ad video;
"For me, I can honestly say that the magic was Proactiv.''
Furthermore, Kendall Jenner, the Keeping Up Up With The Kardashians star is now the new spokesperson for the skin care beauty brand.
Moreover, the official Twitter account of the dermatologist-developed beauty brand tweeted:
"Welcome to the family, dahling! @KendallJenner is the new face of Proactiv"
You go, girl. Thanks for sharing us your secret magic to your acne free face.
In other news: Drake Unfollowed Kim Kardashian's Instagram After Kanye West Called Him Out
Now, with Proactiv, we too can get that flawless skin like yours.
-->