Miley Cyrus Calls to 'Free Britney!' Spears at Memphis Concert
Published Mon May 06 2019 By Jessica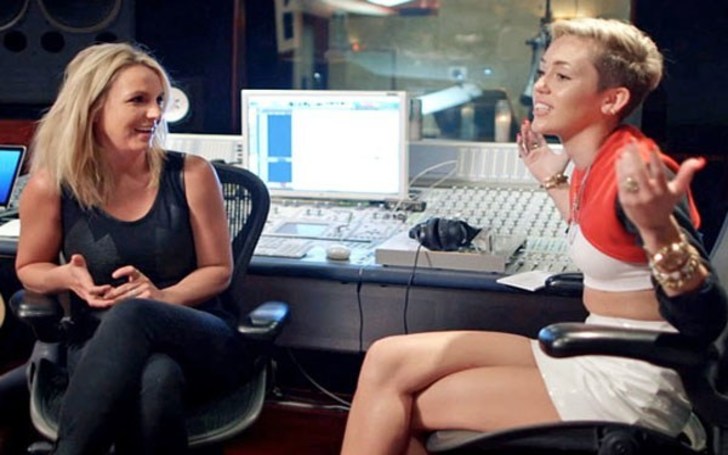 Miley Cyrus shows she is in all favor of 'Free Britney' campaign whilst performing at the Beale Street Festival.
Remember how last month, thousands of fans came up with conspiracy theories believing that singer Britney Spears's management held the singer against her will at a mental health facility?
In case you missed it, last month, several reports claimed that the Princess of Pop' mental health deteriorated so bad to the point that she had to be kept captive after she learned the hospitalization of her father.
Recommended: Do Teen Mom Fans Finally Hate Jenelle Evans More than Farrah Abraham?
As a matter of fact, the mother of two even had to cancel the upcoming leg of her Las Vegas residency so she could be by her father' side and take care of herself.
Miley Cyrus and Britney Spears in 2009 at the Kids Choice Awards.
SOURCE: Hello Magazine
Consequently, as it affected Spears to the pit, her management allegedly claimed she could have died anytime soon if she didn't seek medicine as soon as possible at the time.
Spears, however, took to social media after a couple of days and insisted to her fans that she was doing completely fine and also suggested her followers to not believe anything they read online.
In her words, she said: "My situation is unique, but I promise I'm doing what's best at this moment 🌸🌸🌸 You may not know this about me, but I am strong, and stand up for what I want!"
"Your love and dedication is amazing, but what I need right now is a little bit of privacy to deal with all the hard things that life is throwing my way. If you could do that, I would be forever grateful. Love you" Britney added.
The fans, of course, didn't buy Spears statement she left on Instagram.
Also see: Meghan Markle's Hopes For A Natural Home Birth May Be About To Change
In the meantime, the fans started a hashtag on Twitter that read #FreeBritney and, in fact, the fans still strongly stands by their conspiracy theories believing that the last thing Spears needs is freedom.
Apparently, it's not just the fans, pop singer and fellow fan of Britney Spears herself, Miley Cyrus falls in the same category too.
During her recent performance to one of her most iconic songs aka the 'Party In The USA' at the at the Beale Street Music Festival, Memphis, TN on Saturday, the 26 years old former Disney alum shouted 'Free Britney'.
Fueling the fans and the conspiracy theories regarding Britney's alleged admission to a mental health facility, Cyrus had to sing the famous line of the song that itself includes Britney's name in it.
Halfway through the song, instead of singing the line that says: "And a Britney song was on" thrice, Miley shouted: "Free Britney", whilst her fans continued singing the original lyrics of the song.
Don't miss: Is David Eason Trying To Kill Jenelle Evans' Other Dog?
Miley Cyrus is a big fan of Britney Spears and has been claiming herself a big fan since the early days of Hannah Montana. And Cyrus implying she too stands behind the 'Free Britney' campaign comes as no surprise at all.
-->