Mission Belt Net Worth - A Brief Introduction of the Product and Its Worth in the Market
Published Tue Apr 28 2020 By Eric
If you are tired of facing the problems with traditional belts which holes break them down quickly, then Mission Belt is your solution. They are one of the top men accessories manufacturing companies that sell ratchet belts.
The firm was co-founded by two brothers Nate and Zachary Holzapfel. They were born to Richard N. Holzapfel and Jeni Broberg Holzapfel. Nate felt fashion houses designed and created belts as an afterthought, and he had to bring brand recognition to belts in the market, which inspired him to found Mission Belt Company.
Except for the fabulous ratchet belts, co-founder Nate Holzapfel is also famous for his appearance in the ABC show Shark Tank. He is one of the successful entrepreneurs who pitched in front of the world's brilliant business personalities in the fourth season of the series. Nate won the heart of the sharks (investors) and even succeeded in grabbing one hell of a deal, which totally change his lifestyle. Care to know more, then keep on reading.
Raise of the Mission Belt Company
Things become beautiful when they are simple in nature; that what entrepreneur Nate Holzapfel saw in Mission Belt Co. Something which is mandatory for a gentleman is to wear a belt, which can totally change the dress up game for one person. Now, belts come in leather, plastic and et cetera, but all of them have one thing in common, holes.
Nate Holzapfel came up with the idea of Mission Belt.
Photo Source: Pinterest
Holes are there to hold the belt for us. However, it also kills them, as, most of the time, it becomes the point where belts start to break down. Nevertheless, many tried to solve that problem and faced failure.
You May Also Want To Know: Indonesia's Julo Raises $10M to Expand its P2P Lending Platform
However, Nate's mission to bring brand recognition to belts went off immediately. He is a great salesman who could connect with the emotion of his customers and made a great sale in his business. Still, Holzapfel wanted a great partner to team up to accomplish his goal, which took him to Shark Tank.
Mission Belt Co. Founder Nate Holzapfel in Shark Tank
Nate Holzapfel was doing an exceptional number of sales, but it wasn't enough for him. He was hungry to put his product in the waist of every single American, and that craving made him appear in the ABC show Shark Tank.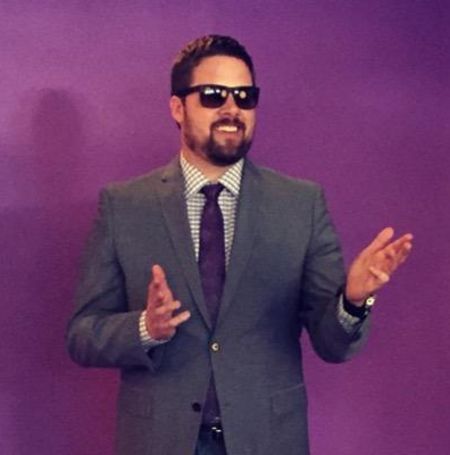 Nate Holzapfel deal from the Shark Tank changed his life trajectory.
Photo Source: Outlier Magazine
Holzapfel pitched his Mission Belt in front of the Shark Tank judge Kevin O'Leary, Daymond John, Robert Herjavec, Lori Greiner, and Mark Cuban. He told his story how he came up with the idea and how he execute?
Also See: Coin Out Net Worth - A Brief Introduction of the App and It's Worth in the Market
41, Nate appointed a quality factory to manufacture his product at a comfortable price. After then, he built his connection in several small local retailers and country clubs and began to sell his belts. Now the number might shock you guys like it surprised the sharks, one of the Holzapfel retailers were selling 250 belts a month at a 35 bucks price tag.
Mission Belt in Shark Tank Season 4 Episode 23
In three months in the business, Mission Belt generated $ 390,000, which is quite a good number for a belt company. Nate even purposed to produce his product in less than five and a half to six dollars, which also included shipping costs. His wholesale price for the belt was fifteen dollars, which was a good margin line and succeeded in impressing sharks.
Click To Read: Tesla Futuristic Cybertruck Received 146,000 Orders after Fumble Debut
Subsequently, Holzapfel was asked numerous questions, and with some tough talk with the Shark Tank judges, he managed to nail a great deal with the fashion king Daymond John who has already marked his name in fashion biz in the early 1990s.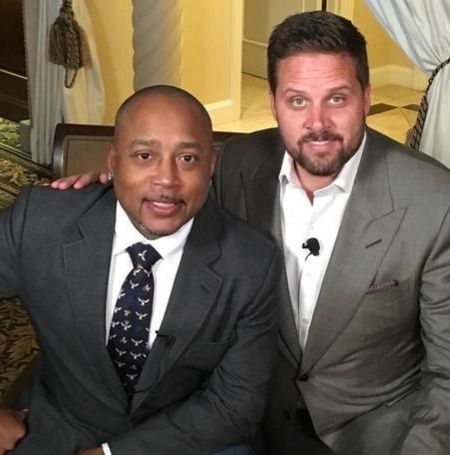 Daymond John with the Co-founder of the Mission Belt Co.
Photo Source: Pinterest
Nate came to the show seeking $50K for a 20% stake of his company but was offered $50K for 40% of the company. He will also be head in charge of sales and also able to earn a commission from the sales he generated.
Recommended: McDonald's Sacks CEO Over "Consensus Relationship" with Employee
However, Holzapfel countered Daymond's offer with the same amount, but only 30% of the company share, which ended on 37.5% of the firm, and he went home with a great smile on his face, as he knows things are going to change.
Mission Belt Co. Worth in 2020
There isn't exact information of the Mission Belt, which would point out the net worth of the company in 2020. Still, there are some old data on different trustworthy sites, and after going through it, we can sightly predict the firm's worth. Before we break the ice, let us tell you guys that American businessman Daymond John's contract with Nate Holzapfel, Mission Belt was one of his five best Shark Tank deal, according to CNBC.
Mission Belts Co. produce quality belts for the gentlemen.
Photo Source: Instagram of Mission Belts
After Mission Belt team up with John, they also came out with a new mission to help other small businesses and entrepreneurs and began to donate $1 through Kiva Lender Fund for every belt they sold.
Also see: Guzzle Buddy Net Worth - A Brief Introduction of the Product and It's Worth in the Industry
In March 2017, they lent 60,000 microloans, or we may say $1.5 million to different uprising business owners all over the world. Zachary Holzapfel brother to Nate and co-partner in the business also mentioned they generated $8.2 million in revenue from their works in 2016.
Mission Belt, with a philanthropy mission to fund massive numbers of upcoming entrepreneurs, joined Kiva, and now they are its largest supporters providing tremendous opportunities.
You Might Also Love To Read: Google Teases Revolutionary Smart Clothing Product with Adidas and Electronic Arts
So, with that rapid progress, we can say in 2020 Mission Belt might have accumulated hefty revenue, which makes it billion worth company.
For more product and celebrity related content feel free to visit Glamour Fame.
-->