Trolls Post Disturbing Reviews of 'Captain Marvel'; Movie Rating Suffers
Published Sun Feb 24 2019 By Chester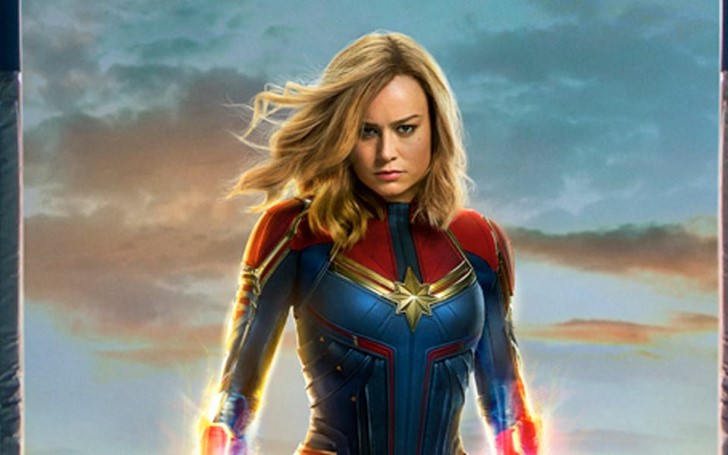 The recent speech by Marvel star Brie Larson regarding the male dominance in the movie industry invited disturbing comments in MCU's first solo feminine movie 'Captain Marvel'.
Captain Marvel aka Brie Larson has always been straightforward towards feminism and ongoing social issues. From the very beginning, the Academy Award-winning actress seemed outspoken pushing women's liberation ahead. This is one of the reasons MCU (Marvel Cinematic Universe) gave Brie such an enormous opportunity to work for the first ever female led-movie, carrying such a huge risk.
In recent days, the internet has been buzzing with negative and vulgar comments precisely on rating sites such as Rotton Tomatoes. The 29-years-old is currently facing criticisms from male critics especially 'white males' who felt quite offensive by her excessive act towards female emancipation and Raising Dad actress upcoming female dominant movie Captain Marvel.



Brie Larson sppech regarding movie critics at Women in Film awards 2018




SOURCE: Variety



The critics started making trolls and headlines out of 'Schimmel' actress soon after she shared her opinion towards the inclusivity of females in the cinematography on an interview by Urban Central published on June 18, 2018.
Check out: HBO's New Adnan Syed Documentary Trailer Is A Must Watch For 'Serial' Fans
The interview was held during Woman In Film Awards, 2018 where Brie exclusively opened about the ongoing issues in the movie industry.
The criticisms and troll began to fire back soon after the American actress defended against women's discrimination in the industry by writers, movie-reviewers, and actors in an interview at Lucy Award, 2018. The model shared:
"If You're A Woman Of Color Its Hard To Be In Film"
The television star later opened about her acts and plans towards the solution for excluding female dominance in the industry:
"No women in film, this carpet is inclusive. And this is all part of the inclusivity writer that I have asked for and I am trying to implement now. I have multiple media moving with me forward which I am encouraging other artists to do as well. "
The Golden Globe Award winner later added:
"We need to be aware of the implicit bias of the situation so that we are all meeting each other and everyone is sitting at the table."
On the same event, during her award reception speech for excellence in the film, Brie explained about the current negative impacts accused by movie reviewer to the female and black actress in the industry by pointing 'White men', in particular.
"67% of the top critics reviewing the 100 highest grossing movies in 2017 were white men. Less than a quarter were white women and only 2.5% were women of color."
The statement felt offensive to many male critics esp. 'White males' which resulted in different annoying comments in the popular movie rating sites such as Rotton Tomatoes. As a matter of fact, the comments were later deleted. However, glamour fame was able to bring to the deleted user comments.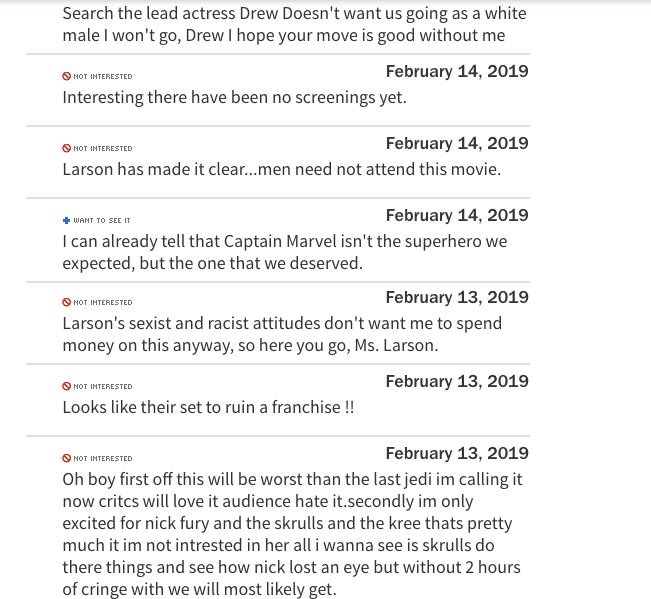 Deleted Critics Offensive Comments for Brie Larson

SOURCE: RottenTomatoes
Rotten Tomatoes is a movie-review site where users can rate and review the upcoming and ongoing movie. It contains features like user comments where the user presents their feedbacks on the latest movie. Similarly, there is also "want to see" list where the audience vote if the film is worth watching or not. It primarily helps to estimate the movie result before hitting the theaters.
Find out: Three Ways Tony Stark Could Be Rescued In Avengers: Endgame
Earlier on Feb 19, "Captain Marvel" had a user rating of 5.24 and a huge want to see lists of viewers around 78%.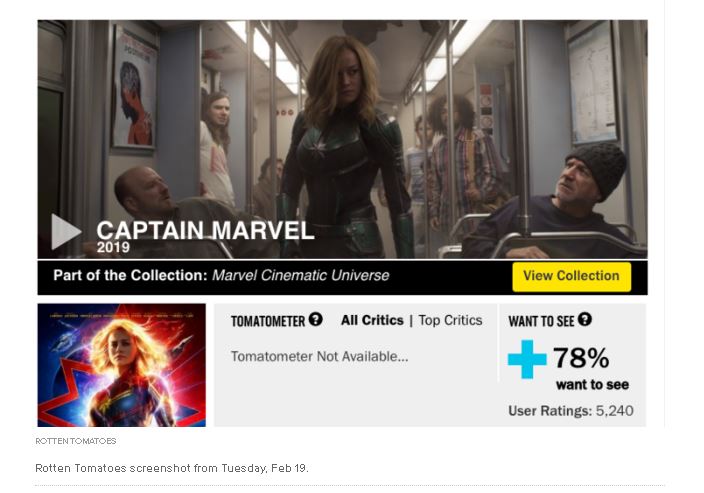 Captain Marvel previous review
SOURCE: Rotten Tomatoes
But soon after Brie dropped her speech at "Women in Film" in July 2018, the most anticipated movie of 2019 "Captain Marvel" ratings surprisingly dropped at 50% "want to see" reactions as of Feb 24, 2019.
Captain Marvel Rotten Tomato Score
SOURCE: Rotten Tomatoes
The actress later tweeted a post related to Rotten Tomato reviews after noticing the decline of "want to see" of Anna Boden and Ryan Fleck directorial Sci-Fi movie.
Seemed like the American actress was unable to express and deliver her real motive which resulted in conflicts between genders. In fact, she was only trying to promote female actress and women of color further in the society and industry which resulted in more problems.
A fan commented:
"And I don't support anything that tries to weaponize the culture war and cause hatred and division. The MCU is going in a sad direction. Oh well, it was great while it lasted. 10 years is a good run."
The release date of the movie is nearing, as it hits the theatres on March 4, 2019. The Kevin Feige-production Captain Marvel is predicted to mark itself alongside MCU's hit movies such as Avengers: Infinity War and Black Panther which grossed millions during its opening days at the box office.
Check out: 'Captain Marvel' New Clip Reveals Extended Fight Sequence on Train
The early reaction from the film premiere on Feb 19, Wednesday was hugely admired and loved by the early viewers. Let's hope the first ever franchise of the best commercial character of Marvel Universe won't get spoiled by the actress' controversial speech.
-->