Wes Nelson's 'Dancing on Ice' Future in Jeopardy After Shock Fall; Romance with Vanessa Bauer?
Published Tue Feb 26 2019 By David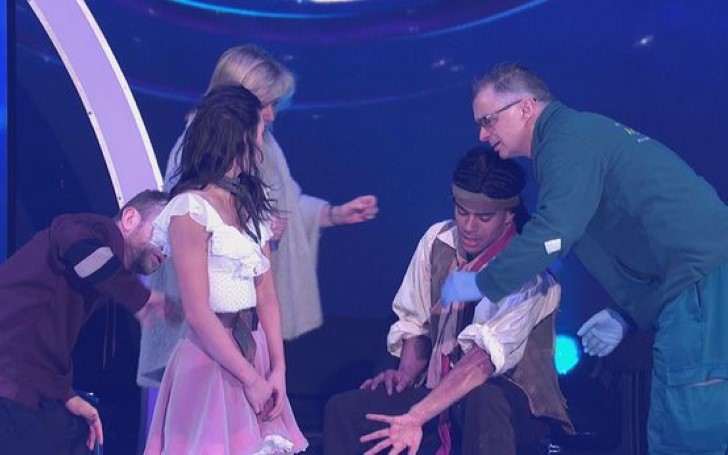 Wes Nelson dropped a big hint of their relationship during their on-stage performance on ITV's Dancing On Ice.
On Sunday night, Dancing on Ice saw Wes Nelson and his professional partner Vanessa Bauer canoodling briefly during their on-stage performance.
Twitter storms through viewers reaction questioning if the 22-year-old pro skater really locked lips with Wes, 20, during the mid-routine performance backed by Bruno Mars, Treasure.
The pair had just suffered a nasty fall in rehearsals an hour before the live show. Though after that they received the highest score of the series with their pirate routine for Time Tunnel week, on Sunday evening. Yet the moment of smooching still stole the headlines and became the highlight of the night.
Wes, who recently split up from Megan Barton Hanson, bend to pick up Vanessa amidst their action-packed routine. And so came the moment where the two leaned in for a quick peck on the lips - fuelling the tittle-tattle of their relationships even further.
For starters, the rumors of their romance were already fledgling in the air. But as for the Wes and Vanessa, the dancing powerhouses couldn't have cared less since they were ever so busy containing their delight as both Jayne Torvill and Christopher Dean awarded them the first tens of the series.
Recommended: Fans Question Deleted Scene Showing Colton Underwood Falling For Hannah Godwin
With a score total of 38.5 out of 40 from four judges, the dancing couple also received a eulogy from Christopher that praised,
'You are certainly a jumping Jack Sparrow. We asked for creativity and it was all of that. I love the flow of movements. You are still trying new things and I commend you for that.'
In addition the mentor #2, Jayne added, 'You're still pushing yourself you seem to be taking control of Vanessa.'
Speaking about his near-perfect score, Wes, the hero of the night said, 'I've worked so hard this week my legs are in bits. It's so good, I'm exhausted. We put all the work into that routine.'
Don't Miss: Irina Shayk Reacts to Bradley Cooper and Lady Gaga's "Shallow" Performance
A few hours earlier, Wes' fate in the competition was put in jeopardy after he injured his arm when he fell on the curl during the rehearsals.
The Love Island star had no option but to change his routine for the show and from now on, will no longer be incorporating Detroiter lift into his set.
Wes Nelson drops his partner Vanessa Bauer during mid-performance
The pair's try-out also got interrupted when the reality star accidentally dropped Vanessa to the floor after attempting to perform the famous, Detroiter lift.
Shortly after the plunge, Wes was promptly reported by the show's paramedic after he had thrust his arm to the floor.
The pair have been a hot topic on this series of Dancing On Ice since both stars are fresh off single after their respective relationships ended during the very session of the show.
Despite Wes and Vanessa straightly denying any hearsays of a romance during their pro/celebrity partnership, the show's co-presenter, Phillip Schofield further sparked the fire last week by calling them 'lovebirds'.
Also Read: 91st Rendition of Oscars! All the Stars From Best Dressed To Worst!
When asked with Wes, himself on last week he said: 'We are absolutely not an item, you know that yourself, Phil.
'It is purely professional, she is work and train, train – there's nothing like that, nothing will ever be.'
-->