Who Is Roger Mathews Dating after Divorce from Ex-Wife Jenni "JWoww" Farley?
Published Sat Jan 25 2020 By Sea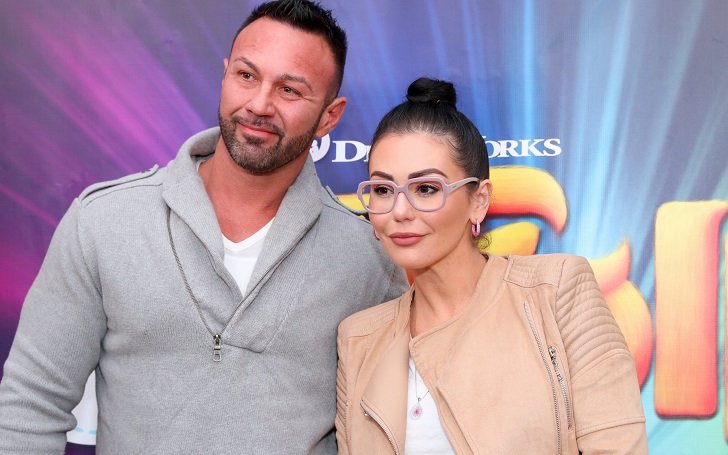 It looks like a nasty divorce with lots of blaming and accusations was settled with an utmost priority for the children. Roger Mathews and his ex-wife, Jenni "JWoww" Farley, were throwing tantrums at each other during and after their separation in 2018.
However, as a year went away since filing for divorce, both people seem to be moving on with new people in their lives. Their custody battle also ended in very good terms apparently, so much so that Mathews is defending Farley against the attacks from the public.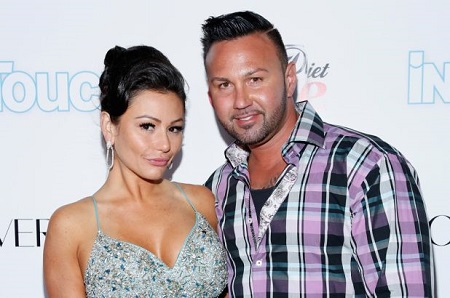 The custody battle was heavy, but they settled their differences.
Source: Cindy Ord, Getty Images
While JWoww already has a young boyfriend of her own, there's no telling who Mathews is dating, but he does have a type and is looking for someone. But the children come first.
Roger Mathews and Jenni Farley Came a Long Way Since Filing for Divorce in September 2018
JWoww met Mathews when she was just cast in the show, 'Jersey Shore', in 2009. She'd moved to New Jersey, and the two met when the crew was filming the first season. She was still in a relationship with Tom Lippolis, which ended in August 2010.
Mathews was only introduced on the show in season three. But they together had hosted an event at Studio 54 in the MGM Grand in November 2010. Mathews popped the question in September 2012, and they got married in October 2015.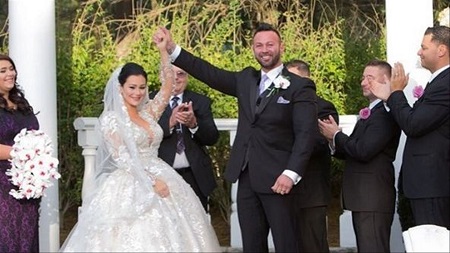 Roger Mathews got engaged to Jenni Farley in September 2012 and married her in October 2015.
Source: Manny Carabel, Getty Images
However, before their marriage, their first child together, a daughter Meilani Alexandra Mathews, arrived in July 2014. JWoww also revealed later in 2018 that she's had a miscarriage in May 2011, right before filming season 4 of 'Jersey Shore'.
Their second child, a son Greyson Valor Mathews was born on May 5, 2016. The two were part of several spin-off series and other ones along the way when suddenly, JWoww was reported to have filed for divorce in September 2018, just less than three years after their marriage. But Mathews proclaimed he was not done "fighting for the marriage" with video posts on Instagram.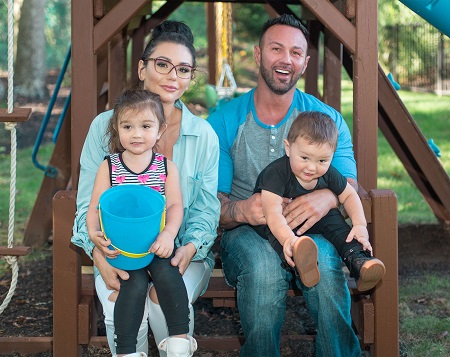 The two did try to make it together for their kids.
Source: MTV
It seems they were working on some things as they went out on occasion for dinner together. But in December 2018, Farley revealed she'd been granted a temporary restraining order against Mathews and the divorce was already on its way.
There were accusations thrown at either side, but Jenni assured her fans that she was not trying to keep the kids away from him and that he's still a good dad. But there were claims from Jenni that Mathews mistreated their kids. It was a scramble all around.
You may like: Who is Hayden Christensen dating after divorce from ex-wife Rachel Bilson?
Roger, on the other hand, posted one video after another, stating everyone will see the truth soon, several times. Some of them were even taken when he was in the back of a police car.
Jenni Seemed to Have a New Guy in Her Life, and Mathews Was Happy for Them
It only took until April 2019 to see something in their life. They seemed to have put down their differences and spent Easter together with their kids. The same month, JWoww was posting photos with a new guy in her life.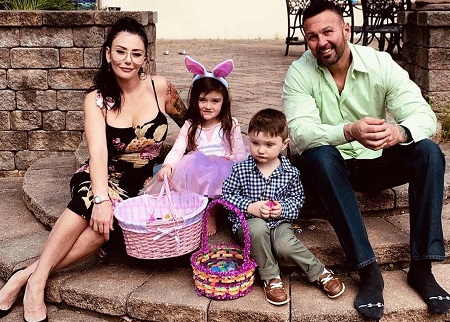 They still make time to be together so that the children don't feel weird.
Source: Roger Mathews, Instagram
It was confirmed that she was dating this new guy during an appearance in Nicole "Snooki" Polizzi's podcast, 'It's Happening With Snooki & Joey', that month. "We're filming Jersey Shore right now, and we nicknamed him '24," she said. Polizzi also mentioned he was very handsome. Apparently, the new young boyfriend was a good friend of her little brother.
At the end of the month, she officially went on Instagram to share the photos of her and mystery boyfriend and confirm that she was dating the 25-year-old professional wrestler, Zack Clayton Carpinello, during their trip to Universal Studios in Florida.
Their official announcement as a couple on Instagram.
Source: Jenni JWOWW, Instagram
It would've been something most exes would be somewhat stung by. But not Mathews. He seemed to be "very happy for them". He also mentioned coparenting had been easier at the time. But she did notice him hitting the gym instead of taking care of the kids over the weekend, snarkily commenting on his little break.
Despite having differences over how to parents their son with his autism being a part of him, they spent their daughter's birthday together back in July 2014. Even Carpinello was there in Mathews' home.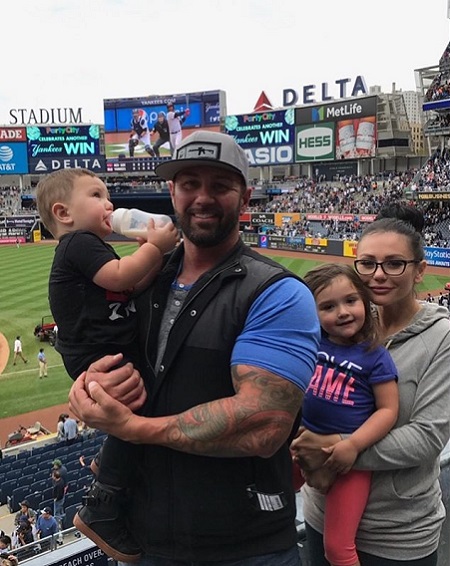 This from the most recent post of Mathews on Instagram together with Farley and the kids.
Source: Roger Mathews, Instagram
The connection between the three seemed to be quite unusually good as Mathews hoped the trouble between the current couple would get back on track after that incident at a club in October.
"I want peace with my ex-wife for my kids, and if there is turmoil in her life and in her household, it's just not a good thing for our children, so I wish nothing but the best for her," he told Us Weekly. "I wish them all well, and I hope Jenni and Zack can work through their issues if they deem it worth saving."
Find out: Is Ashton Meem dating someone after divorce from husband Russell Wilson?
Whatever the case, there will always be something going on between Mathews and JWoww, like that little comment she made in October about regretting once being married to Roger.
Roger Revealed What He Was Looking for in a Woman and That He's Casually Dating
As far as the mother of his kids moving on didn't sting him, Mathews was also determined to get back to the dating scene. But it's not that straightforward for him.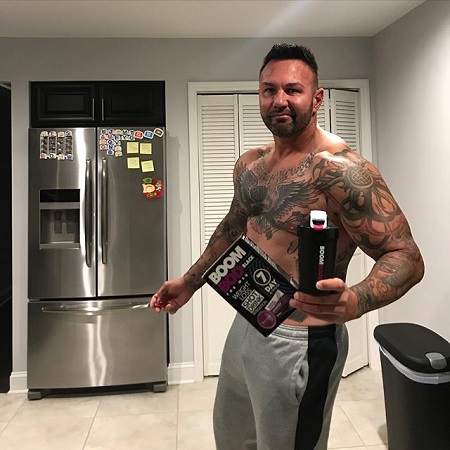 Who's looking? Roger Mathews is totally single now.
Source: Roger Mathews, Instagram
Back in September 2019, the 44-year-old told Us Weekly he was cautiously and "casually dating" since his kids are his main focus. So, yeah, he may have been in and out of casual relationships, but considering his children, he does have a type.
"... an established woman with her career and personal life in order, who has similar likes and interests and who is understanding that my children will always come first," Mathews continued. "Communication is critical to me at this point in my life. If you're a bad communicator, we probably won't make it far. I want peace and stability in my life for myself and my children."
So there's not much to report about a new girlfriend anytime soon, but there might come along someone with a similar understanding. Keep checking out 'Jersey Shore Family Vacation'.
Surprise Update: Roger Mathews Reportedly Dating Someone New Who Might Look a Lot Like JWoww
Well, it's all how other people perceive, but they say Roger is already in a serious dating relationship with someone who they think look like JWoww. Looks like he's found his type as they are taking things slow, and the new girl's met his kids.
Danielle Miele is a hairdresser and met Mathews at a concert in Jersey back in May 2019, when he was a really tough place. It seems like right after she came into his life, everything with JWoww seemed to have worked out. She hasn't met Miele but does know about their relationship.
They say you have to look at her closer to understand the resemblance.
Source: Danielle Miele, Instagram
They're officially an item as mentioned by various sources, but don't get on your high horses just yet. They are taking things slow and for Mathews, the kids are still his main priority. The source also claim she understands it all too well and hasn't stayed at Mathews' when the kids are around him.
It seems Danielle Miele is who Roger Mathews is casually dating as Miele prefers to stay out of the reality limelight. There's a lot to see from her Instagram page though.
Stay tuned and connected to GlamourFame for more Entertainment content.
-->