Amidst Oscar Controversy 'The Upside' Takes Kevin Hart to No. 1
Published Mon Jan 14 2019 By Jessica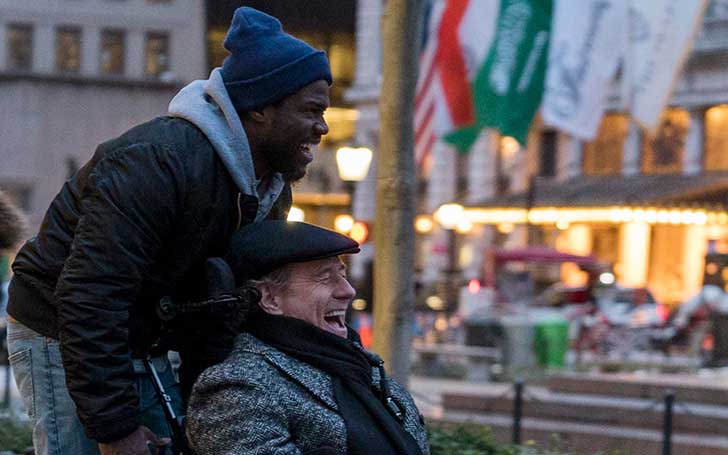 Kevin Hart bounces back amidst Oscar Controversary as The Upside takes him to No. 1
Comedy drama; The Upside takes the recently controversial actor Kevin Hart to top spot.
Hart who stepped down from hosting Oscar this year proved his stardom once again in the Box Office as he celebrates the bumper opening of his fresh release; The Upside.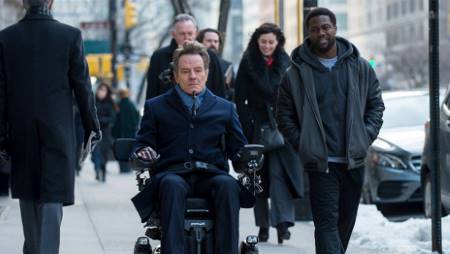 Kevin Hart and Bryan Cranston on the set of The Upside
SOURCE: Hollywood Reporter
One of the longest delayed films of the last two years, originally first screened at the 2017 Toronto International Film Festival, STX Entertainment later purchased it when the movie's initial corporation The Weinstein Company went through bankruptcy in early 2018.
You may also like: Documentary Accusing Michael Jackson of Sexually Abusing Pair of Young Boys Set To Premiere at The 2019 Sundance Film Festival
The Upside; co-starring Bryan Cranston alongside Hart reveals the story of a wealthy quadriplegic man(Bryan) when he hires a man(Kevin) with a criminal record as his caretaker.
The Fench remake dramedy directed by Neil Burger surprisingly won its first spot in the first week with an earning of $19.6 million.
Also Read: Bodyguard's Richard Madden Reportedly Separated From Girlfriend Ellie Bamber After 18 Months of Relationship
The film reportedly opened with collecting more than $9 million.
As a matter of fact, the film topped DC's Aquaman, which grossed over $1 billion dollars, with a collection of $17.3 million over the last weekend. It came out as the runner up at the box office this weekend.
Aquaman starring Jason Momoa and Amber Heard is DC's second billion-dollar club movie since The Dark Knight Rises starring Christian Bale and Tom Hardy.
Likewise, Sony's family-friendly film A Dog's Way Home grabs its third position with an earning of $11.3 million.
Another fresh release from Canadian actor Keanu Reeves marks the worst collection of his career. His movie, Replica spiraled down to 13th place in the box office, with a collection of just $2.5 million.
People also searched for: Nicki Minaj and Beau Kenneth Petty Going Public With Their Romance Unlike Her Previous Relationships
The Upside movie released in 11th January is Hart's first film released after his historic homophobic tweet scandal.
-->