Fans Seem Convinced Jill Duggar Is Pregnant!
Published Fri May 10 2019 By Jessica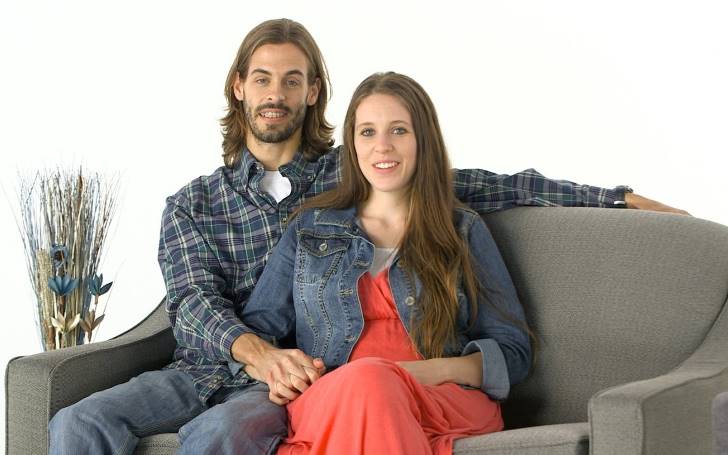 Fans of the Duggars family believes Jill Duggar might be pregnant.
Through the grace of God, the Duggars will surely take over the world soon.
Apparently, after observing the recent post shared by Anna Duggar on her Instagram, the fans of 19 Kids and Counting are fully convinced that a new Duggar is possibly on the horizon.
Although no confirmation or announcement has been made (yet), the fans believe the post conspired to fuel up hints that Jill Duggar could be expecting her third child soon with husband, Derick Dillard.
Also see: Jade Cline Is Set To Replace Jenelle Evans In Teen Mom 2!
To begin with, the post shared by Anna, the picture includes a throwback portrait where all three pregnant Duggar sisters; Joy-Anna Duggar Forsyth, and Jill poses in between their sister in law, Anna.
Joy-Anna, Anna and Jill Duggar.
SOURCE: Anna Duggar
Anna, the eldest daughter in law of Jim Bob and Michelle Duggar who is expecting her sixth child with husband Josh Duggar wanted to reminisce the time when all three of them were pregnant at the same time.
She wrote in the caption: "#Throwback to when Jill, Joy & I were pregnant together!🤰🏻🤰🏼🤰Currently, there are 4 Duggar sisters/sisters-in-law that have shared expectant baby news! 👶🏻 I wonder how many more new cousins will be announced before our little one arrives?!?!"
Immediately after the 30 years old mother updated the post, one of her fans commented: "My prediction is that Jinger, Lauren, Jill and Abbie will have a baby by the end of 2020. Thus giving Jim Bob and Michelle 20 grandkids by the end of 2020." Whilst another one added: "Ok, who all is pregnant...Joy, Jessa, Anna, and Jill?"
As if the fans weren't already speculative on the whole thing of Jill being pregnant, she later shared a picture of her baby boy on her Instagram eating lemon with salt.
We mean aren't pregnant women usually craving and consuming sour and salty food? Well, whether Jill is pregnant with another child or not, we hope she will clear out the message soon.
As for Anna and Josh who can't wait to welcome their sixth child later this year, fellow family members; Joseph Duggar and Kendra Caldwell as well announced earlier this year that they were expecting a baby number two.
Don't miss: David Eason And Jenelle Evans Are Reportedly NOT Headed To Marriage Boot Camp!
Besides, Anna and Kendra, Joy-Anna Duggar who is pregnant too announced the happy news last November that she is expecting her second child with husband, Austin Forsyth this year.
-->