Kathryn Adams Limbaugh is the Fourth Wife of Rush Limbaugh - Get in-Depth Details of Their Wedding and Other Facts
Published Tue Feb 11 2020 By Matthew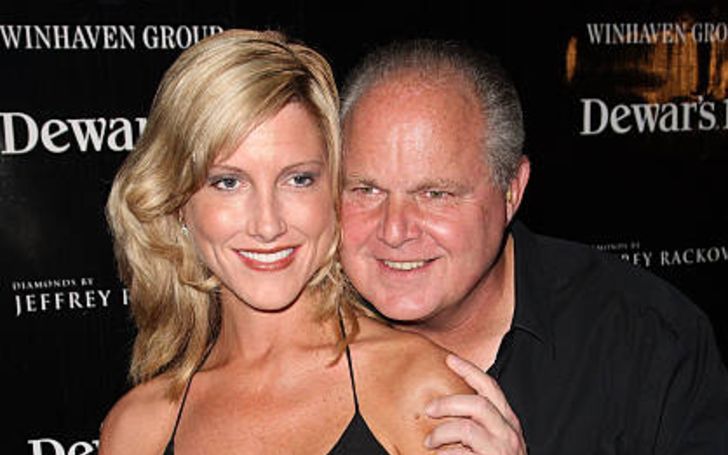 Here's all that you need to know about Rush Limbaugh's fourth wife, Kathryn Adams Limbaugh!
Rush Limbaugh, America's most favorite conservative radio talk host, recently made headlines when he received the Presidential Medal of Freedom from Donald Trump days after he announced his stage four advanced lung cancer. Like most of Trump's other decisions, this, too, wasn't without criticism. Some even went far enough to call out the American President for handing out the award to just about anyone.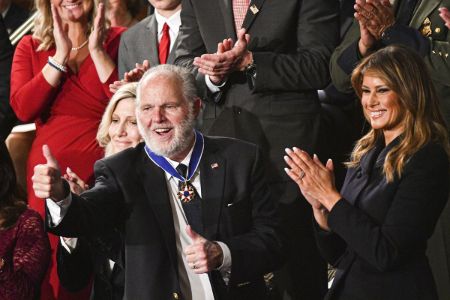 Rush Limbaugh received the Presidential Medal of Freedom from Donald Trump.
Source: Vox
It's no news that Rush lives a life abundant in controversies. With three prior failed marriages and no children, the 70 years old struggled when it came to his personal life. As per Celebrity Net Worth, He's on his 4th attempt with his current wife Kathryn Adams Limbaugh, and it has endured for ten long years. She sat right beside Rush when he was bestowed with the United States' highest civilian award by the first lady, and yet he didn't mention her by name.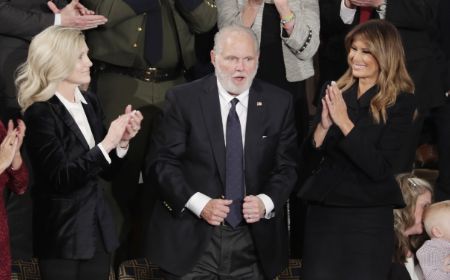 Rush Limbaugh with his wife Kathryn Adams Limbaugh (left) and the First Lady of the United States (right).
Source: Deadline
Rush's wife might've been married to a famous rich guy, but she is yet to make herself known around the world. Here are some facts about Kathryn Adams Limbaugh that'll help you understand her better.
Kathryn Adams Limbaugh Met Her Husband At A Charity Golf Tournament
Rush Limbaugh first laid eyes on his current wife way back in 2004. Kathryn worked as an event planner and was running a charity golf tournament that Rush participated in. The political talk show was still married to his third wife Marta Fitzgerald then, whom he parted ways with that very year after ten years of marriage.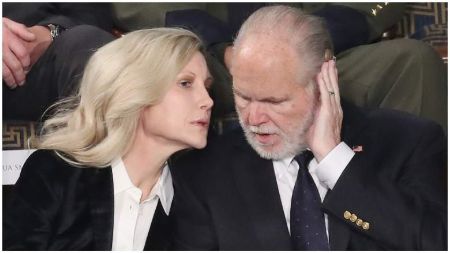 Kathryn Adams Limbaugh met her husband at a charity golf tournament in 2004.
Source: Heavy
The twosome remained in touch but didn't get together until 2007. A year later, the romance was publicized after both attended a fundraiser in Maimi together.
Kathryn Adams Limbaugh Co-Authored Several Books with Rush Limbaugh
Born Kathryn Elizabeth Rogers in December 1976, the name Kathryn Adams Limbaugh appears alongside her husband's title in numerous children's books. Kathryn, with her husband, created a children's series called Adventures of Rush Revere. The first book was published in 2013, and the 5-part series became a New York Times bestseller.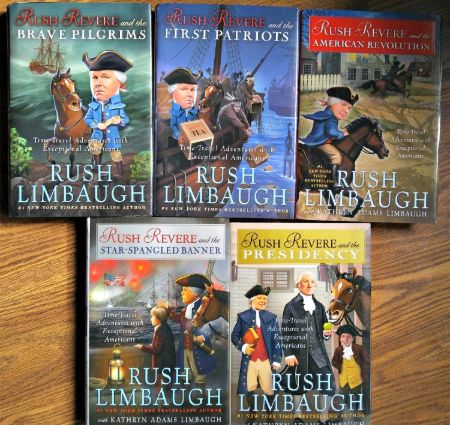 Kathryn Adams Limbaugh co-authored multiple children's books with her husband Rush Limbaugh.
Source: Day By Day In Our World
The inspiration was Kathryn's suggestion to her husband to help teach American history in a fun and engaging way so young readers could truly understand the story of America's founding.
Kathryn Adams Limbaugh is a Direct Descendant of President John Adams
One of the most exciting facts about Kathryn is her lineage. People reported back in 2010 during her nuptials with Rush that Adams and her family's lineage could be traced back to President John Adams.
Recommended: Donald Trump Tweets Encouragement Words for Rush Limbaugh Through His Lung Cancer Diagnosis
Talking about his wife in an episode of his show, Rush revealed that his wife had to move around often due to her father's career as an international businessman. The announcement was nothing new as Kathryn made a statement about her childhood prior in 2008 saying,
I grew up so differently, traveling around the world, that I'm sometimes not able to relate to the average person my age.
She also spoke about the fact that her unusual upbringing was the reason the 26 years of the age difference between her and Rush wasn't an issue. Rush Limbaugh took a moment about his father-in-law during the same 2017 episode of his radio show and praised him as the definition of strength and motivating influence.
Kathryn Adams Limbaugh's Marriage Was Graced by Elton John's Performance
You know your grand day hit it big when 'The Rocketman' himself performs at your wedding. Kathryn Adams Limbaugh was one of the lucky ones to experience such lavish weddings with the great singer Elton John gracing the wedding with not only his presence but also performing for the couple.
Elton John attended and performed in Kathryn Adams Limbaugh's wedding with Rush Limbaugh.
Source: Daily Mail
The pair tied their knot in a plush ceremony in Palm Beach, Florida, in June 2010. The bride, Adams, was 33, and the groom, Limbaugh was 59 at the time. Among the 400 people invited were some pretty high-profile names such as Fox News commentator Sean Hannity; Karl Rove, a former adviser to President George Bush; former New York City mayor (and current lawyer for President Donald Trump) Rudy Giuliani; and New England Patriots owner Bob Kraft.
Elton was reportedly paid $1 million to play at the reception and provide the entertainment for the evening.
Kathryn Adams Limbaugh Co-founded the Rush and Kathryn Limbaugh Family Foundation
The power couple is involved in charity work as they started the Rush and Kathryn Limbaugh Family Foundation in 2018. The foundation currently brings in somewhere in the ballpark of $5 million as income. Not much is known about the foundation itself, though, but Limbaugh is known for supporting causes like leukemia research and the armed forces.
Kathryn Adams Limbaugh was Accused of Infidelity
The young bride of a $600 million rich man was accused of cheating on her husband back in 2017. As reported by Radar Online, Kathryn was involved with younger men, including athletes and a married man.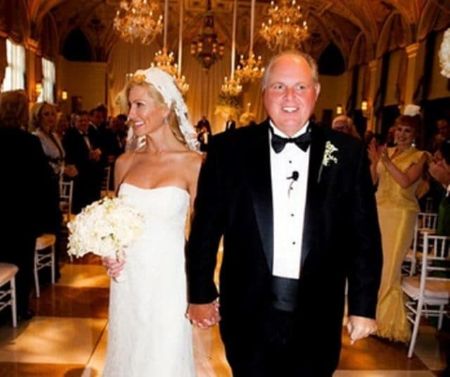 Kathryn Adams Limbaugh allegedly cheated on her husband Rush Limbaugh.
Source: Affair Post
Not having signed a prenup, many tabloids reported that Rush turned a blind to his wife's adultery. Nevertheless, the radio show host denied the rumors and insisted that his wife always remained faithful to him. What the truth is, we may never find out.
Tune into Glamour Fame for more celebrity facts, and don't forget to sign up for the newsletter.
-->