Madelyn Cline's Plastic Surgery: Find All the Details Here
Published Thu Aug 26 2021 By Manvi
Madelyn Cline's Plastic Surgery: Find All the Details Here!
Every Outer Banks fan is in awe of the strong character Sarah Cameron portrayed by the talented actress Madelyn Cline. The Jury's alum is an adventurous individual who isn't limited to just acting pursuit. So far, she's been doing well and furthering her acting career.
As aforementioned, the breakthrough performance in Outer Banks brought Cline into the limelight along with her co-stars. But the actress is seen in a myriad of critically acclaimed hits like Stranger Things and Knives Out. Her estimated net worth is around $800k.
Madelyn, born on December 21, 1997, was familiar with the industry from the young age of 10. She grew up in Charleston, South Carolina. The down-to-earth personnel is often seen speaking on body positivity and health issues. Let's know if the beautiful star underwent any surgeries or not.
Has Madelyn Cline Ever Gone Under Beauty Enhancement?
In a recent interview with Woman's Health, the former model, Madelyn Cline, spoke about the problems the actress faced at a young age relating to eating disorders. The actress openly discussed self-love and appreciation in the video. Despite the recent speculations on Madlyn's rumor on beauty enhancements like lip fillers, it hasn't been proved or addressed by the Boy Erased alum herself.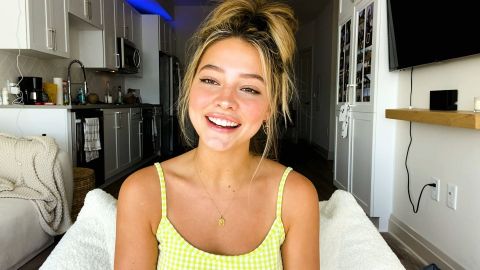 Madelyn Cline in an interview with Women's Health.
Photo Source: Yahoo Sports
The only thing that the actress ever changed on her face is her eyebrows. Cline received a dare after the Outer Banks rated highest on Netflix, making her shave the tip of her eyebrows. Some fans are claiming This Is The Night star's got lip filler, but it's not proven as of now. Nobody knows the truth except the beautiful individual herself.
Recommended: People Think Madison Beer Had a Plastic Surgery, But Here's The Truth!
Not to mention, the actress got a pretty good hit from her puberty compared to her young modeling phase; the actress is blooming even more in her 20s. It isn't a matter of concern for such a talented actress to be presumed to have had some touch-up.
Madelyn Cline's Career Journey!
Having talked enough of Madelyn Cline's appearance, let's dive deep into her success journey after debuting with Boy Erased. The talented actress paved her way into the industry by mustering all hard work and dedication to her craft, despite getting a small role in the earlier days of her career. She didn't come from a celebrity background.
Madelyn Cline starred as Tina in the all-time hit Stranger Things.
Photo Source: Otakukart
The talented actress' effort paid off after successfully bagging the lead role in Outer Banks. Before her breakthrough role, Cline's been a part of major hits as aforementioned, which aided in proving her talent. Madelyn who is currently dating her co-star Chase Stokes shall be seen in the upcoming film Knives Out 2 alongside Daniel Craig.
Also, see: Did Yeonmi Park Undergo a Plastic Surgery? Find All the Details Here
For more celebrity-related content, visit Glamour Fame!
-->