Jordyn Woods Back to Work in London Merely a Month After Tristan Thompson Cheating Scandal
Published Sun Mar 24 2019 By Jessica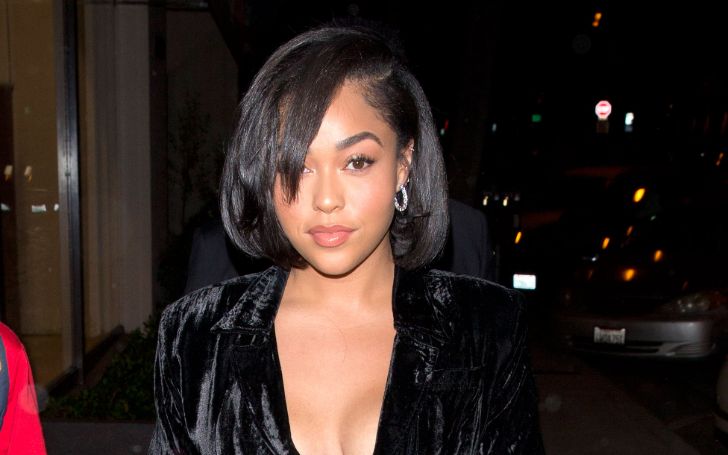 Jordyn Woods is back on business following her involvement in Tristan Thompson cheating scandal.
Time sure does fly quickly! It only feels like yesterday we reported on the whole cheating scandal that occurred between Jordyn Woods and her best friend' sister Khloe Kardashian's now former boyfriend Tristan Thompson.
Unbelievably, it's been nearly a month. And as a matter of fact, everything is going back to normal again. After all, Life does go on.
As Khloe focuses on the upbringing of her eleven months old daughter, True Thompson, whilst Tristan focuses on his basketball career, Miss Woods appears to have moved on from the whole situation too. The 21 years old is indeed back on the track.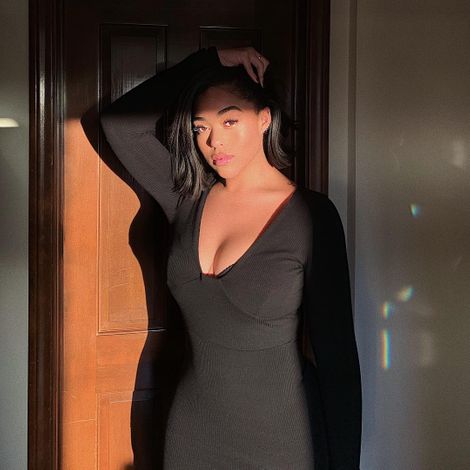 Jordyn Woods announces her lash collection with Eylure opening in London.

SOURCE: Jordyn Woods
Since her short Instagram hiatus following the scandal, the part-time model who's back on the platform made an announcement of the news on her upcoming work trip to London next week.
You may also like: Alyssa Milano Mocked Over Tweet Teasing 2020 Endorsement
Sharing the news to her nine million followers on the photo-sharing app, Woods revealed she will be promoting her cosmetic collaboration with Eylure, Eylure X Jordyn Woods Lashes.
For the particular post, Woods shared a sun-kissed image taken inside a room where she can be seen wearing a black plunging featured dress whilst she poses with her hand hovering over her head as she slightly leans on the door.
Jordyn captioned the picture saying:
"I am so excited to come to London next week to celebrate my @eylureofficial lash collection launching exclusively in @superdrug ❤️ All three lashes will be available in stores on the 25th of March!"
The news comes shortly after her recent appearance on Jada Pinkett Smith's Facebook Watch show; Red Table Talk, where she opened up about her side of the story that went down between her and the 27 years old NBA star.
Recommended: 'Supernatural' Set To End After Season 15 on The CW
According to Woods, she claims Thompson kissed her out of a sudden and without her consent at the private house party. In her words, she told the host who questioned her if the kiss was passionate or rather just a peck:
"No passion, no nothing, on the way out. He just kissed me. Like a kiss on the lips, no tongue kiss, no making out, nothing."
Jordyn then later went on admitting her mistake she made on the night. However, she insisted on being the reason behind the couple's break up. She told Jada:
"I am no home wrecker. I would never try to hurt someone's home, especially someone that I love. And someone that I've seen — has a beautiful daughter. I never was trying to steal someone's man."
On the contrary, quickly after the interview surfaced online, Khloe took to Twitter to break her silence over the statements made by Jordyn. At first, the 34 years old reality star totally blamed everything on Jordyn, writing:
"Why are you lying @jordynwoods ?? If you're going to try and save yourself by going public, INSTEAD OF CALLING ME PRIVATELY TO APOLOGIZE FIRST, at least be HONEST about your story. BTW, You ARE the reason my family broke up!"
However, after receiving backlashes from the internet claiming Khloe was acting rather stupid for blaming the whole thing on Jordyn, Kardashian then made a series of emotional tweets blaming Thompson this time.
Khloe's tweets read:
"This has been an awful week & I know everyone is sick of hearing about it all (as am I). I'm a rollercoaster of emotions & have said things I shouldn't have. Honestly, Tristan cheating on me & humiliating me, wasn't such a shock as the first time."
The 'Keeping up with the Kardashians' star then concluded the tweets saying:
"What's been harder & more painful is being hurt by someone so close to me. Someone whom I love & treat like a little sister. But Jordyn is not to be blamed for the breakup of my family. This was Tristan's fault."
Meanwhile, Woods' friendship with now-estranged Kylie Jenner still appears to be in mess. Sources report the two once what used to be inseparable now are found to be nowhere near in contact with each other.
In other news: Hailey Baldwin Slams 'Dumb' Justin Bieber Fans
As a matter of fact, Kylie is still yet to publicly speak on the matter.
-->