Kourtney Kardashian Makes Fun Of Sister Kim Trying To Be A Lawyer On Ellen Show
Published Mon Apr 29 2019 By Jessica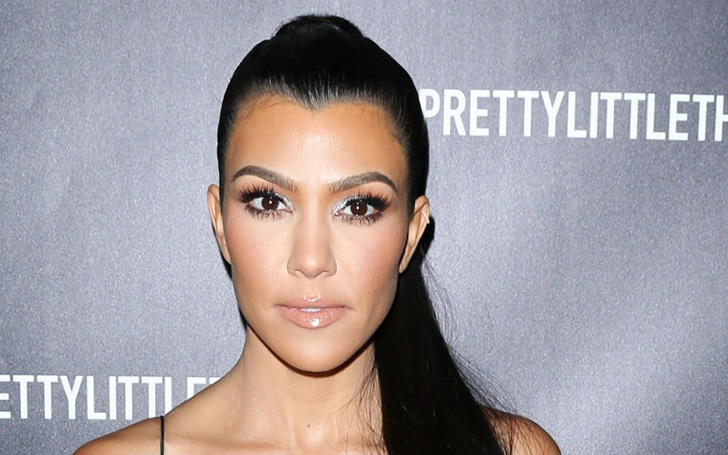 Kourtney Kardashian jokes about her sister Kim Kardashian studying lawyer at the Ellen DeGeneres show.
For the latest episode of The Ellen DeGeneres Show, the guest is none other than the beautiful Kourtney Kardashian who recently turned forty (though she looks as if she is on her late twenties or early thirties).
Anyway, Kardashian, the mother of three looked stunning as she sported a completely white outfit from top to bottom that consisted of a white skin tight full sleeve top and a creamy white high waisted pants.
Recommended: Zac Efron Teased A Sequel To Greatest Showman
Kourtney kept her look simple as she opted for a light makeover with dark nude eyeshadow and a matching lipgloss that highlighted her full lips.
Kim Kardashian and Kourtney Kardashian at the amfAR Gala in New York.
SOURCE: Pop Sugar
The 'Keeping up with the Kardashian' star put her middle-parted dark shoulder-length hair free that traveled down her arms.
Ellen, the talk host show shared a short sneak clip from tomorrow's episode on her Instagram, where Kourtney jokes about her sister Kim Kardashian who rocked the internet after she shared the news that she was studying law.
The short video shows Ellen who begins to ask the reality star about her famous law student sister. To which Kourtney humorously says that everything is a liability to Kim.
Ellen asks: "Let's talk about Kim becoming a lawyer. Is she, like walking around the house talking all lawyer-y and stuff?"
Kourtney is then heard replying to the talk host: "There's a — everything's a liability"
Continuing: "Like when we were at one of our Sunday services that [her husband] Kanye [West] does and she's like — it was indoors, in the beginning, it was indoors — and she's like, 'Oh, my gosh, this is such a liability."
Don't miss: Check Out The Hottest Instagram Pics of The Day; Sunday, 28th April
The eldest daughter of Kris Jenner adds: "Like everything, she'll mention and she'll be like, 'If this person's on your property — like she just, she knows all these laws now. It's so —"
"God, annoying," Ellen completes her before she finds her words to finish.
Audience laughter can be immediately heard in the clip.
Kim, 38, did not finish her college and only decided to follow the footstep of her late father, Robert Kardashian last year to become a lawyer.
The mother of three has been very vocal about her dream to pursue a law degree and even fired back at her haters online who trolled her.
She shared a post on Instagram a couple of weeks ago revealing how she has been distanced from her own kids because she is extremely focused on her studies.
"Last year I registered with the California State Bar to study law. For the next 4 years, a minimum of 18 hours a week is required, I will take written and multiple choice tests monthly. As my first year is almost coming to an end I am preparing for the baby bar, a mini version of the bar, which is required when studying law this way," Kim wrote on her Instagram.
Also see: Real Housewives of Dallas Star LeeAnne Locken Is Married To Her Longtime Boyfriend Rich Emberlin
She further continued: "I've seen some comments from people who are saying it's my privilege or my money that got me here, but that's not the case. One person actually said I should "stay in my lane." I want people to understand that there is nothing that should limit your pursuit of your dreams and the accomplishment of new goals."
Adding: " You can create your own lanes, just as I am. The state bar doesn't care who you are. This option is available to anyone who's state allows it. It's true I did not finish college. You need 60 college credits (I had 75) to take part in "reading the law", which is an in office law school being apprenticed by lawyers. For anyone assuming this is the easy way out, it's not. My weekends are spent away from my kids while I read and study. I work all day, put my kids to bed and spend my nights studying."
"There are times I feel overwhelmed and when I feel like I can't do it but I get the pep talks I need from the people around me supporting me. I changed my number last year and disconnected from everyone because I have made this strict commitment to follow a dream of mine - It's never too late to follow your dreams."
"I want to thank Van Jones for believing in me and introducing me to Jessica Jackson. Jessica along with Erin Haney has taken on the role of my mentors and I am forever grateful to them both putting in so much time with me, believing in me and supporting me through this journey. This week I have a big torts essay due to negligence.
Then concluded saying: "Wish me luck"
Sister Kourtney wrote, "I couldn't be more proud of you, sister." in the comment section.
In other news: Duggars FINALLY Address News That Jinger Is Moving to LA!
Meanwhile, Kourtney is speculated to have rekindled her romance with ex-boyfriend Younes Bendjima who she reunited with at her lit 40th birthday party.
The new episode featuring Kourtney will air 29th April/Monday.
-->