Kylie Jenner Likely To Forgive Jordyn Woods If Khloe Kardashian Forgives Her
Published Fri Mar 08 2019 By Jessica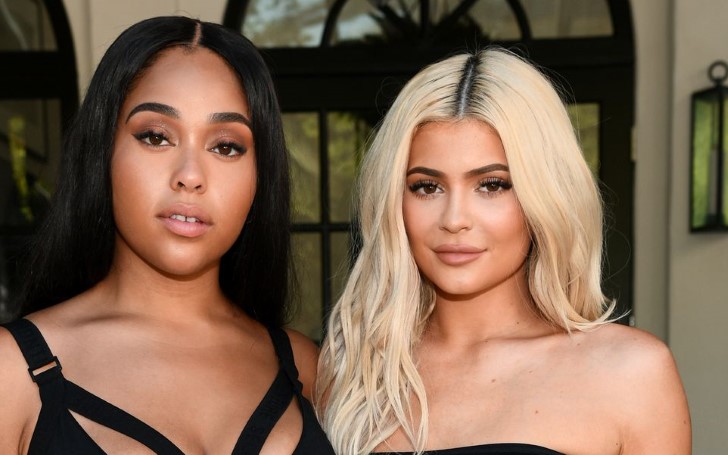 Kylie Jenner's forgiveness to bestie Jordyn Woods depends on Khloe Kardashian.
It's been several weeks since Khloe Kardashian's former boyfriend Tristan Thompson cheating scandal with Kylie Jenner's best friend Jordyn Woods surfaced, and, we are still yet to hear a word from Kylie on what goes on between her and Woods.
Are they still friends? Did Kylie take her longtime bestie back into her life? Or, does Kylie want nothing to do with her?
Finally, some lights have been shed on what will happen to their friendship next, though the two BFFs still haven't addressed a thing about it publicly.
Kylie Jenner and her best friend Jordyn Woods at an event
SOURCE: The Cheat Sheet
It's reported that the complicated situations between Kylie and Jordyn might come to an end soon and the solution to their friendship problems lies on only one thing, Kylie's sister Khloe.
You may also like: Leonardo DiCaprio Tries To Maintain A Low Profile As He Makes Rare Public Outing With Girlfriend Camila Morrone
To win Kylie back into her life, Jordyn shall face Khloe and gain her forgiveness in the first place. A close source informed ET that the two still contacts each other after the incident happened, but very rarely.
The source added:
"Kylie is still figuring out where Jordyn fits into her life, and the biggest reason is because Kylie wants to respect her sister, Khloe."
Though Khloe at the moment still seems angry at Jordyn and never wanna see her again since the 21 years old part-time model kissed the father of her child, it's assumed the 34 years old reality star still might forgive her.
Furthermore, she is on the stage of getting over the whole situation and the hurt from someone who she considered as a sister.
Don't miss: Lisa Vanderpump Sheds Some Light on The Real Housewives of Beverly Hills Dog Drama
However, the insider added:
"It gets better for [Khloe] every day, but nothing more than accepting what happened at this point. Kylie loves Jordyn, but she loves her sister, Khloe, more and the future of the friendship is directly associated to Khloe's happiness."
Upon the cheating scandal, the 'Keeping up with The Kardashians' star took to her Twitter earlier this week on how she feels about the incident after Woods gave her first interview on the Red Table Talk show to share her side of the story.
Khloe tweeted:
"What's been harder & more painful is being hurt by someone so close to me. Someone whom I love & treat like a little sister. But Jordyn is not to be blamed for the breakup of my family. This was Tristan's fault."
The 'Good American', a clothing brand creator added:
"I have to move on with my life & count my blessings, my family, my health, & my beautiful baby True."
Jordyn in her recent interview with Red Table Talk claims the NBA star kissed her first at the private house party without her consent and further added that nothing happened more than that.
Woods also claimed she didn't need Khloe's situation implying she had no interest in stealing someone's man and betray her.
Don't miss: Fans React To Khloe Kardashian's Break Up - Check Out Their Responses Including These Hilarious Memes
Meanwhile, if we ignore all the drama aside, Forbes recently announced Kylie as the youngest self-made billionaire.
Well, at least something to cheer up Kylie's mood after the rough past weeks she suffered.
-->