Vitaly's Big Ass Game Show Is The Only Place Where 'You Can Eat Some ASS And Win Some CASH'
Published Mon Aug 19 2019 By Travis
Vitaly is a serial entertainer, after numerous weird videos, here is something totally out of the left field.
'Vitaly's Big Ass Game Show,' it is exactly as it sounds, Vitaly is not being hyperbolic or ironic or artistic, it is just pure madness of a game show coming on the heels of another ridiculous prank of 'Sniffing girls on the beach.' The way Vitaly's career is going, no one would've predicted such a vast array of ridiculousness.
Truth be told, we love how the man marketed himself, coming from those zombie prank videos to now owning his own subscription-based website with a crazy amount of people on it every day, the "Natural Born Prankster" of Vitaly Uncensored came a long way. The one thing missing from his career was 'The Price is Right' kind of game show, and it seems he is fulfilling his dreams by parodying everything on the face of the world and putting a sexual spin to it.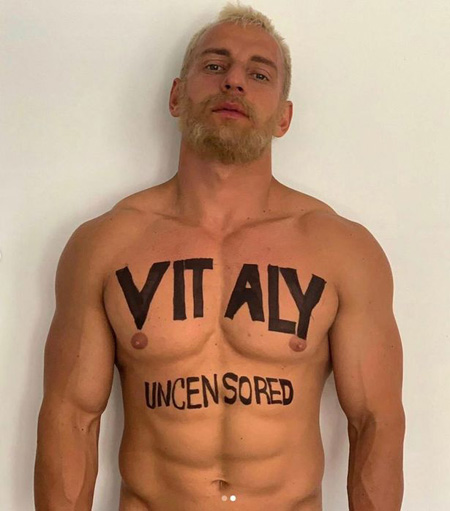 Source: Irish Mirror
Vitaly, the daredevil stuntman, the "don't use mobile in gym police" is now hosting a game show on his exclusive porn prank site, Vitaly Uncensored. The game is simple, "Vitaly's Big Ass Game Show Is The Only Place Where 'You Can Eat Some ASS And Win Some CASH.'" Simple enough right, eat some ass to get some cash, and with the huge net worth he's built, Vitaly can afford to give some of it away.
The prankster posted a photo of himself with four beautiful models, one of which was Ariel Ice. Ariel is an aspiring Instagram model who appeared alongside Vitaly in the "escaped sex slave video" and "trailer trash parents video." She is in the photo with her hands covering her breasts and wearing just her underwear. All the ladies in the photo are top naked and wearing just their bottoms.
Vitaly, on the other hand, is wearing a gold jacket with a black shirt and black pant with white shoes, and to top it all off and show us the gentleman he is, Vitaly is wearing a red bow-tie. He is also holding a microphone with a long stem, and a little black foam covered top to speak into.
Because Instagram policies don't allow explicit content on the site, this was the extent of everything he could show in pictures. But in his story was another matter, in the story, he shared yesterday, showed a peculiarly large lady model smashing her bottoms against a man lying on his back on the floor (you get the idea).
Following the story was another story update to Instagram where he thanked his girlfriend, Kinsey Wolanski for getting him to read books, well, listen to them, because he said, "I cannot read." Kinsey and Vitaly recently celebrated their one year anniversary and Kinsey also recently topped Vitaly for the highest number of followers on Instagram after her streaking video during the Champions League Final between Liverpool and Tottenham went viral.
Watch: Kinsey Wolanski runs during the Champions League Final
Vital is back with another video on Instagram; this time, he is playing with a lion. So, make sure you check it out and if you want some porn prank to cleanse your PG-13 rated social media palates then head on over to Vitaly Uncensored. The subscription prices are on the side of expensive, but trust us, it is going to be worth your while.
-->